How to choose this product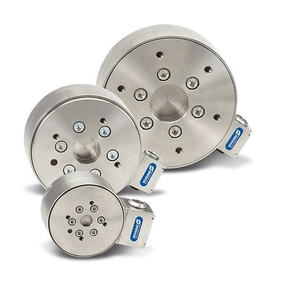 A force sensor, or load cell is a transducer which measures force in different orientations and translates the result into an electrical signal.
Applications
The automobile, robotics and aeronautical industries are among the numerous domains where load cells are common. They are used to test and check glued or assembled parts, in materials handling and on production lines, for dynamometer or scale measurements and for press control.
Technologies
Load cells vary according to the direction of the force to be measured: shear or flex, S-beam or pancake for tension and compression. Some are capable of measurements along several axes. Torque sensors are static or rotary. Most consist of a strain gauge on a Wheatstone circuit bridge. A single gauge is full-bridge mounted. Half- and quarter bridges are used when there is more than one gauge.

Multi-gauge systems are more accurate and facilitate temperature compensation. Other systems combine a piezoelectric transducer and an amplifier. Measurement range is expressed in micrograms (µg) for precision balances, in kilograms (kg) or tons for weighing a truck or in newtons. A decanewton (daN) equals about a ton.
How to choose
Choice will depend on linearity, the range of measurement and load type in terms of the number and orientation of measurement axes.