The Online Industrial Exhibition

Nominal diameter: 13 mm - 104 mm
Height: 18 mm - 31 mm
AS-N for Unions, DIN 11851-F DN = DIN / ISO / ASME; Other materials available on request.

Width: 19 mm - 167 mm
Nominal diameter: 12 mm - 150 mm
Height: 12 mm - 20 mm
LR nuts are used wherever a strong radialclamping is required.- The radial strength activated by turning the Hcgrub screw is applied onto the threaded spring.- The contact surface perpendicular to the threadedside allows ...
See the other products
Nadella

hexagonal nut
Snep ESN-H100
See the other products
Arconic

Width: 5.5 mm - 10 mm
Nominal diameter: 3 mm - 6 mm
Height: 4 mm - 6 mm
The 348 series is made of mild and stainless steel with metal or zinc finish. Its main function is for restraining any loose in any of the work pieces. It has a full set of vibration resistant components. Moreover, it is made based on ...

Nominal diameter: 7.4, 9.4, 10.3, 13.1 mm
... a separate inner nut which moves within the outer shell without rotating. This allows a small amount of movement to allow for misalignement. Thread locking versions are also available. These products ...

The hydraulic nut consists essentially of a piston, a cylinder and an integrated needle shut-off valve. The hydraulic nut is pressured up to the desired pre tensioning force while the needle shut off ...
See the other products
AS Tech Industrie- und Spannhydraulik GmbH

Width: 21 mm - 56.4 mm
Nominal diameter: 16 mm - 32 mm
Height: 14 mm - 25.4 mm
See the other products
Ortlieb Präzisions-

Width: 8 mm - 18 mm
Nominal diameter: 5 mm - 12 mm
Height: 5.6 mm - 12.4 mm
Bulte's hex lock nuts are made out of natural nylon. These nuts feature resistance to wear and weather conditions. They are constructed in a light design using rustproof components. The units are available ...

Width: 52 mm - 152 mm
Nominal diameter: 20 mm - 80 mm
Height: 56 mm - 122 mm
It is designed to annul every movement at the end face and at the main thread of the clamping nut during the clamping process-tightening the clamping screw. This feature prevents the risks of friction losses and the cause ...

locking nut
Power Coat series
Width: 19 mm - 78 mm
Nominal diameter: 14 mm - 64 mm
Height: 12 mm - 35 mm
PowerCOAT is an innovative, permanent coating that increases clamping pressure of the nut up to 75% compared to standard ER nuts. More holding power reduces the chance of spinning the shank of the tool ...

Monroe's All Metal Locknuts are great fasteners and come in various sizes and lengths. Each of our all metal locknuts is perfect for whatever your industrial or manufacturing needs may be.

... of nylon collar lock nuts into a serrated Anchor Rivet Bush with a reusable nylon locking element fitted into the rear of the bush. Advantages : • Self-locking: resists screw loosening ...

Nominal diameter: 44 mm - 145 mm
Height: 40 mm - 80 mm
... . With less manual force you create a big hydraulic clamping force. For to relieve the clamp nut put the actuator screws to the start position and move the nut to the opposite direction. The medium remains ...
See the other products
NORIS Armaturen Burkenstein GmbH & Co. KG

Width: 16 mm - 35 mm
Nominal diameter: 8.1 mm - 27.2 mm
Height: 4.4 mm - 9.5 mm

... BLUE PELLET self-locking element can be applied to your own fasteners, or ready-to-install self-locking fasteners. It can be supplied to meet your specifications. Screws as small as #00-90 (M1.2) can ...

Nominal diameter: 0.25 in - 0.38 in
The Nut is well suited for bayonet connection. It is manufactured with a thread ranging from 1/4" to 3/8".

... 100 pieces 3. Package: individually Manufacturing process: lathe machining The fine thread nuts produced by our company have been certified by ISO 9001: 2008 quality system.

with bottomed thread thread protected centrical operation compact design

Hardened ground parallels, work piece stops and deflectable jaws are all available with magnetic bond technology that helps to attach them in an eye blink. Soft jaws for different clamping chucks and vises are available with a new, high-accurate ...

Following manual positioning of the clamping nut against the clamping edge, the integral gear and the Belleville springs will be preloaded by turning the hexagon nut. As a result, a high clamping force ...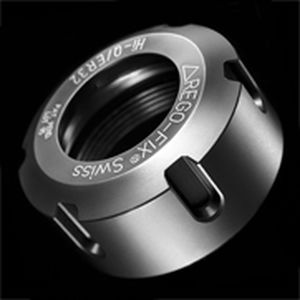 Nominal diameter: 19 mm - 78 mm
Height: 7.5 mm - 40.3 mm
ER Clamping Nuts Specifications Q+ Balancing, ideal for high-speed applications Higher transferable torque, up to 80% higher gripping force over standard non-treated clamping nuts Protection ...
See the other products
REGO-FIX

Nominal diameter: 19.5, 27, 40, 48, 55 mm
Height: 21, 24, 31, 33, 37 mm

Nominal diameter: 13 mm - 30 mm
See the other products
Mikros