The Online Industrial Exhibition

Designed for cars and light trucks with high-revving engines, Havoline with Deposit Shield® Technology offers seven different SAE grades to help ensure the right match for your car or truck. Customer Benefits Offers excellent antiwear ...
See the other products
Havoline (Mfg.)

Operating temperature: -45 °F - 0 °F
ATL004W Air Tool Lubricant, Winter Grade, 4 oz. (12 Pk) Product Information Description Air Tool Lubricant, Winter Grade, 4 oz. (12 Pk) Packaging Fliptop Bottle UPC ID 2929228887

... forging process requirements, from the most conventional to the most recent techniques, CONDAT created a line of forging lubricants capable of covering all techniques: - open die forging, - aerospace, - non-ferrous ...
See the other products
CONDAT

... Rolling Products - specialty lubricants designed for the cold reduction of steel sheet sold to the container, automotive, and appliance industries; contain full synthetics, semi-synthetics and fully natural products with ...

A heavy duty blend of aluminum, copper and graphite lubricants in a petroleum base. Use during assembly to prevent galling, corrosion and seizing and to assure easier disassembly. Inert, will not evaporate or harden in ...
See the other products
ITW Devcon

Operating temperature: 0 °C - 150 °C
Mineral oil, with special additive made for rotary compressors (with screw or vane). Inhibited mineral oil for alternative compressor with piston. Highly refined mineral fluid. Poor in vapour tension for the vacuum pumps use. Mineral ...
See the other products
IGOL

... applications BECHEM offers a wide range of lubricating greases for roller and plain bearings. It covers high-performance high temperature and low temperature lubricating greases, heavy-duty greases and ...
See the other products
CARL BECHEM

REMS Spezial – high-alloyed mineral based thread-cutting oil, can be washed out with water. High lubricating and cooling effect. High-alloyed mineral based thread-cutting oil. For all materials: steel, stainless steel, ...
See the other products
REMS

Use: great for sawing, milling, drilling, turning, grinding and tapping. Benefits: with lubrication-improving additives â?? free of mineral oil shares;contains corrosion-protective additive â?? aging-stable. Usage note: Apply right ...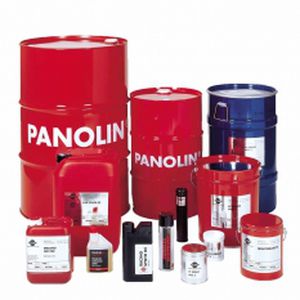 lubricant oil
BIOMOT, ECOMOT series
Fully synthetic long-life ECL (Environment Considerate Lubricant) for high performance diesel engines with long oil change intervals.
See the other products
KLEENOIL PANOLIN AG

The Proficut 106 product ranges is excellently suit ed for thread-cutting, also in high-strength steel. Proficut 106 (medium viscosity) and Proficut 106/1 (high viscosity) contains EP additives and polar active ...
See the other products
helcotec Chemie u. Technik GmbH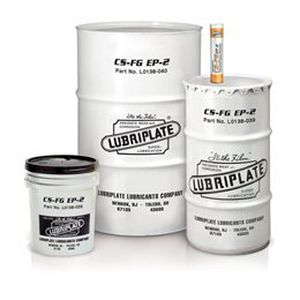 multipurpose grease
CS-FG EP-2
Operating temperature: 40 °F - 120 °F
CS-FG EP-2 High Performance, Multi-Purpose, Calcium Sulfonate, Food Grade Grease CS-FG EP-2 is calcium sulfonate thickened incidental food contact grease which offers premium performance properties. All ingredients used to manufactire ...
See the other products
Lubriplate

mineral oil-based grease
G012
High performance chain grease. High-quality product developed and tested for on-and off-road motorcycle racing that provides guaranteed lubrication for extended periods of intense use. It penetrates links and lubricates pins to ensure ...
See the other products
AMBRO-SOL

Operating temperature: 0 °F - 570 °F
... electrical insulating. Improves electrical performance by reducing arcing, voltage drop & other conditions. Also ideal for lubrication of plastic & rubber.Applications:Electrical connections, circuit breakers, contacts, ...
See the other products
CRC Industries

Operating temperature: -10 °C - 320 °C
200 ltrs. drum HTF mineral oil for heat transfer that can be used in any type installations with maximum outlet temperature of 305 °C boiler wall and maximum temperature in the boiler of 320 °C Mineral oil with excellent thermal oxidation ...
See the other products
Pirobloc

B408 3 Ounce Grease Cartridges Use with F104 Mini Pistol Grip Grease Gun 3 cartridges per package

Delphi brake fluid has one of the highest boiling points of any on the market today. So there's no debate it will always keep cool under pressure, and be there when your customers need it most. - Designed to meet international standards - ...
See the other products
Delphi technologies

mineral oil
Monolec® 6260
Viscosity: 0.000032 m²/s
Operating temperature: -36 °C - 222 °C
A high quality compressor oil designed specifically for use in centrifugal air compressors. Formulated with highly refined select paraffinic base stocks synergistically blended with additives that offer excellent corrosion protection, ...
See the other products
Lubrication Engineers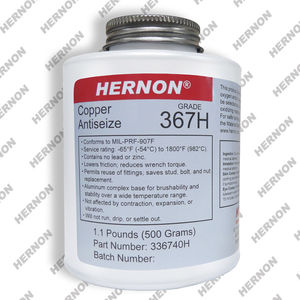 Detail/Description PRODUCT DESCRIPTION Hernon Copper Based Anti-Seize 367 is a low- Property Value friction, anti-seize lubricant manufactured from a combination of micro-size copper flakes and graphite dispersed in ...
See the other products
Hernon Manufacturing

Drilling and cutting oil aerosolArt.No.: WS-70-400WS 70 consists of a combination of natural oils that provide optimum results in drilling, cutting, milling and turning.This product is also suitable for drinking water pipelines and other ...
See the other products
Wekem

Duzzit 3310 High Temperature Synthetic Grease is a high-purity, high-quality, colorless, odorless, NLGI Grade 2 synthetic grease that provides superior lubrication and durability under extreme conditions.
See the other products
Siddhi Industries

Operating temperature: -12 °C - 243 °C
FOOD MACHINERY GREASE is a white multi-purpose specialty lubricant designed for equipment used in the Food Processing Industry. It offers superior water and chemical resistance against fruit juices, carbonated beverages, ...
See the other products
Anti-Seize Technology

High performances grease that offers several advantages. Totally oxidation resistant. Non sensitive and not damaged by most of the solvents, chemical products, acids and bases, water, saline water, vapour, even under pressure. Anticorrosion, ...
See the other products
MMCC

We supply FT704, FT702, and FT705 silicone fluids which are the functionally equivalents to the discontinued DC704 and Dow Corning fluids. Our silicones oils are drop in replacements to their DC counterparts and are offered at significant ...
See the other products
Filtech Co., Ltd.

Anti-seizing for iron, stainless steel, cast iron, titanium, copper and brass.The copper particles form a protective coating which prevents fusing of metallic surfaces under heavy pressure. Apply to mechanical parts prior to assembly ...
See the other products
arexons