How to choose this product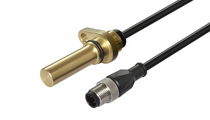 A magnetic sensor uses changes in a magnetic field to detect presence, position or proximity.
Applications
These devices detect movement in automatic systems, doors, cylinders and articulated arms. They are also used to detect fill levels or to control electric motors.
Technologies
Reed sensors are the most common type of magnetic sensor. They consist of a reed relay whose contacts close in the presence of a magnetic field. If the magnet is mounted on a mobile element, the sensor will indicate when the desired position is reached. Detection is possible through a partition or housing which is insensitive to magnetic fields, obviating need for an opening. They are often used to detect the limits of piston movement.

Liquid level sensors use a reed switch in a tube containing a float holding a magnet. Other induction mechanisms produce their own magnetic field. The moving metal element whose position is to be measured alters the field as it enters the magnetic circuit. These variations are measured electrically and analyzed to yield the pertinent information.

Hall-effect magnetic sensors are semiconductors frequently used in electrical engineering to determine the rotor position of an electric motor. They are commonly used on synchronous motors or as tachometers.