Magnetic separators
40 companies | 89 products
How to choose this product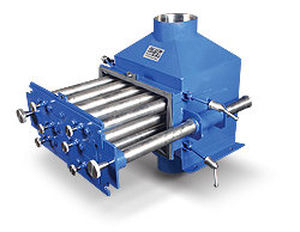 A magnetic separator uses permanent or electromagnets to remove ferrous or paramagnetic elements from the stream of material passing through it.
Applications
These devices are used to remove metallic contaminants from a process stream. This includes ferrous or magnetically susceptible particles, or stray bolts, screws, nails, staples or similar objects. The flow can consist of loose material, dry matter or sludge. Separators treat granular or raw material in mining, and are also used in the food industry.
Technologies
Separators handle dry or moist material. In the latter case, the transport liquid is usually water. Some use a suspended magnetic, which might be a superconductor. Others have permanent or electromagnets.

In certain configurations, the device is integrated into a vertical chute, a funnel, a slide or a conveyor belt. Versions include grate and plate separators, and roller or drum models. Contaminants are removed mechanically or must be cleared from the separator on a regular basis. Eriez tube separators provide reliable protection against metal contaminants. Ball crushers in the mining industry are fitted with drum separators.