magnetic separator
TBS series
CMI Process Equipment CMI Model TBS Teeter Bed Separator CMI's TBS Teeter-Bed Separator is a cost effective solution to fine particle coal separation and classification. Exceptional ...

magnetic separator
MAGGIE series
Filtration size: 1 µm
Flow rate: 1 us gal/min - 250 us gal/min
... stainless steel body that houses our proprietary magnetic cores. The magnetic cores are thin walled, seamless stainless tubes that seal magnetic shuttle assemblies. Each magnetic ...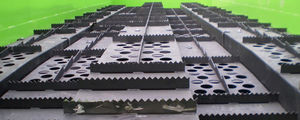 magnetic separator
CBL series
Width: 1.7 m - 3.5 m
Flow rate: 0 m³/h - 150 m³/h
... units, ballistic separators are used to separate into 3 or 4 categories mixed materials which react differently depending on their physical properties when set into movement: - light, flat and/or soft ...

magnetic separator
SBFB Series
... cleans the bran, recovering flour which would otherwise be lost, thereby increasing extraction rate. The key to this separation is the inclusion of an easily adjustable angle of operation . Accurate control of operation ...

magnetic separator
SFI Series
Weight: 1000 kg - 1500 kg
Width: 1606 mm - 2236 mm
SFI Milling Separator The Satake Milling Separator SFI is an all purpose separator designed for the efficient separation of large coarse material and small fine materials ...

magnetic separator
STS, STC
Suitable for use inside hoppers, receivers or containers. Powerful magnets affect the granule flow capturing tiny metal components. STS star series suits installations inside the hoppers. STC drawer series fits installation ...

magnetic grate separator
TM series
Flow rate: 30 l/min - 200 l/min
Magnetic Separators in different Sizes TM 120 30 - 50 l/min in oil TM 200 80 l/min in oil TM 300 120 l/min in oil TM 400 200 l/min in oil

magnetic separator with cylindrical magnet
MAA series
Weight: 7, 5.6, 5.5 kg
Features Magnetic separators of the MAA range consist of a pressure casing with integrated magnetic rod. Magnetic separators are used in seal supply ...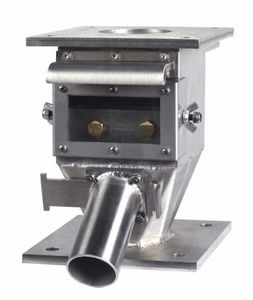 The drawer magnet is a metal separator designed to attract and remove ferrous metal from the material flow, so protecting the processing machine. Advantages: Guarantees continual protection against ...

The MF is a pipe magnetic separator manufactured by Golfetto Sangati. It is suitable for use in granular and floury products. The separator comes either in a permanent pipe magnet, ...

eddy current separator
Tema SG series
Passive signal separator 4 Module Standard signal galvanic insulation Universal input 0...5/10/20mA - 4...20mA Output 0...5/10/20mA - 4...20mA Input-output ratio 1:1 Supply taken from measurement (selfsupplied)

magnetic separator
RM OS-GO! series
The oversize material separator enables you to combine the RM 70GO!, RM 80GO! and RM 100GO! to make a perfect processing plant. The single screening process creates a defined final aggregate, separated ...

The non-ferrous metal separator VNES can be installed in the conveying line itself for reliable separation of non-ferrous metals from wood, domestic refuse, plastics, etc.

... non-ferrous metals from household or industrial waste, Walker offers eddy current separation equipment with a top grade of rare-earth magnet material.

... overbelt systems, separation drums and head rollers have been improved over the past few years and more functionality has been added. Also, more types can be supplied with Neodymium magnet systems. Eddy Current non-ferrous metal separators ...
See the other products
BAKKER MAGNETICS

Weight: 650 kg - 1800 kg
BM Eddy Current metal separation systems for the waste disposal and recycling industries Bakker Magnetics supplies the range of new generation Eddy Current non-ferrous ...
See the other products
BAKKER MAGNETICS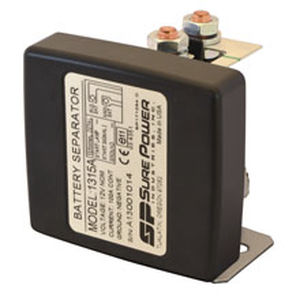 ... Battery Separator is designed for use in multi-battery applications as a solenoid priority system to protect the chassis charging system from excessive loading while allowing auxiliary batteries to be charged. 1318 Battery ...

... business, Bunting® Magnetic Cross-Belts will do a great job of removing tramp metal to clean your product and to protect your Shredder and Grinder Equipment from costly knife damage. Or if you are in the mining industry, ...
See the other products
BUNTING MAGNETICS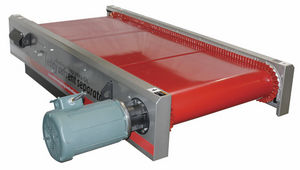 ... combination of a powerful rotor and compact design optimizes the eddy current forces, separation efficiency and product throw. option: How it works Eddy Current separation ...
See the other products
BUNTING MAGNETICS

... Suspended superconducting magnetic separator manufactured by Eriez Magnetics Europe Limited which is known for being the world's only suspended magnet. It has an advanced ...
See the other products
ERIEZ

The Metal separator is manufactured by Eriez, specifically designed for installation in an inclined chute to rid huge tramp metal from a freely flowing stream of item. Moreover, it is also made for free fall utilization.
See the other products
ERIEZ

eddy current separator
max. 30 m³/h | P-TRON
Metal separator for installation in suction and pressure conveyor pipelines. The device meets the highest hygiene requirements. Dust-proof transport of all products in powder form, such as flour, thanks to the special ...
See the other products
GOUDSMIT Magnetic

Eddy current non-ferrous separators have a conveyor belt system with a rapidly rotating magnet rotor containing magnetic poles that generate an induction field. The rotation ...
See the other products
GOUDSMIT Magnetic

permanent magnet separator
NES 4T
Width: 0.5 m - 2 m
... long term. After optimization of the rotational speed, the STEINERT NES 4T (non-ferrous metal separator) now achieves even better results when separating non-ferrous metals from fine fractions. See ...
See the other products
Steinert Elektromagnetbau

Width: 500 mm - 2500 mm
Flow rate: 40 m³/h
... are STEINERT: higher yield and longer life than its competitors. Wherever non-ferrous metals have to be recovered or separated - shredder material, municipal waste, WTE bottom ash, electronic scrap, wood chips or ...
See the other products
Steinert Elektromagnetbau

Principle of Operation Gravity Counterflow Separator The target of the countercurrent sifter is the reduction of the dust content in chemically bonded foundry sand. Sand attrition units remove the organic binder surface ...