{{loadProductsPushed('kwref','65185', '','','4', '3')}} {{#pushedProductsPlacement4.length}} {{#each pushedProductsPlacement4}}

{{product.productLabel}}
{{product.model}}
{{#each product.specData:i}} {{name}}: {{value}} {{#i!=(product.specData.length-1)}}
{{/end}} {{/each}}
{{{product.idpText}}}
{{#if company.requestButtonsVisibility.requestButtonQuestion == "ACTIVE"}}
{{elseif company.requestButtonsVisibility.requestButtonWhereToBuy == "ACTIVE"}}
{{/if}}
{{#if product.innovationType}} {{else}} {{#if product.newProduct}} {{/if}} {{/if}} {{#if product.hasVideo}} {{/if}}
{{/each}} {{/pushedProductsPlacement4.length}}
{{loadProductsPushed('kwref','65185', '','','5', '3')}} {{#pushedProductsPlacement5.length}} {{#each pushedProductsPlacement5}}

{{product.productLabel}}
{{product.model}}
{{#each product.specData:i}} {{name}}: {{value}} {{#i!=(product.specData.length-1)}}
{{/end}} {{/each}}
{{{product.idpText}}}
{{#if company.requestButtonsVisibility.requestButtonQuestion == "ACTIVE"}}
{{elseif company.requestButtonsVisibility.requestButtonWhereToBuy == "ACTIVE"}}
{{/if}}
{{#if product.innovationType}} {{else}} {{#if product.newProduct}} {{/if}} {{/if}} {{#if product.hasVideo}} {{/if}}
{{/each}} {{/pushedProductsPlacement5.length}}

electric manipulator
S6000/P
Carrying capacity: 0 kg - 150 kg
Frame setting machine with suction cups. Standard accessories: N° 4 suction cups diameter 150 mm Max. capacity 150 Kg Optionals: Suction cups with diameter upper 150 mm

Pneumatic Manipulator MEGAPARTNER MG with articulated arm. MEGAPARTNER MG, is a Manipulator with extremely high load capacity, is able to handle loads up to 1500 Kg and reach working radii up to 5000 ...
See the other products
DALMEC

manipulator with rigid arm
max. 550 kg, 2 450 mm | Partner Equo®
Carrying capacity: 550 kg
... It is built with specially made gripping tools designed specifically to carry and manipulate products that has different mass than the vertical axis of the manipulator arm. It is equipped with functional ...
See the other products
DALMEC

manipulator with rigid arm
max. 250 kg, 1 900 mm | Partner PS
Carrying capacity: 250 kg
The PARTNER PS enables operators to work quickly, effortlessly and with precision. This device provides exceptional ergonomic and safety conditions. It is equipped with special gripping tools and is ideal for manually handling loads ...
See the other products
DALMEC

manipulator with rigid arm
max. 900 kg, 2 200 mm | Maxipartner MX
Carrying capacity: 900 kg
Dalmec pneumatic manipulator MAXIPARTNER MX is ideal for heavy (up to 900kg) and offset loads in all directions. MAXIPARTNER MX, with special gripping tools and articulated arms, minimizes the effort of operators, ...
See the other products
DALMEC

manipulator with rigid arm
max. 125 kg, 1 400 mm | Micropartner MI
Carrying capacity: 125 kg
The Micropartner MI is an extremely easy to handle lifting device which has reduced dimensions. It is designed to move in a weightless condition with medium-light, center and off-set loads in all directions. The operator can work quickly, ...
See the other products
DALMEC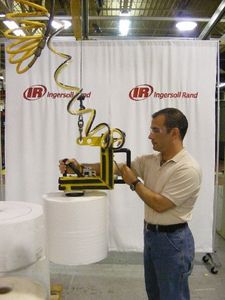 rotary/non-rotary manipulator
max. 136 kg
Carrying capacity: 0 kg - 136 kg
The Rotary Action Handler practically delivers easy horizontal-to-vertical product orientation (90 degrees) of loads up to 300 lb (136 kg). Its flexibility is due to a series of end effector part grippers and a non-destructive rubber ...
See the other products
INGERSOLL RAND

The Ingersoll Rand Warehouse Handler is able to deal with awkwardly-shaped parts with great ease, when it is combined with the load sensing InteLIFT®. It is a number one choice for use in warehouse and beverage totes and different applications ...
See the other products
INGERSOLL RAND

handling boxe manipulator
ZC2S
The ZC2S Clamp lift is an easy to use and versatile assist device that is perfectly suited to elevate totes, containers, boxes, trays and several other types of cartons. This devices is specifically designed to improve productivity through ...
See the other products
INGERSOLL RAND

hanging manipulator
400 series
The Series 400 arm is the ideal device to use when reaching in, around and under heavy or awkward obstacles. This device features a parallel link design and a highly-efficient air cylinder, allowing the operating to position parts and ...
See the other products
INGERSOLL RAND

articulated-arm manipulator
700C series
Carrying capacity: 65 kg - 225 kg
The 700C Arm banjo arm features a design incorporating three connecting linkages which permit the boom/balancer combination to cover a large area, and the arm can fold and maneuver 270 degrees for access around interference points such ...
See the other products
INGERSOLL RAND

The KBK manipulator cranes belong to the versatile KBK light crane system. The product can be designed to meet the exact needs of a wide variety of loads, processes and production conditions. To continue, they offer ...

electric manipulator
E-Balancer series
Carrying capacity: 80 kg - 160 kg
Demag E-Balancer is ideal for safe handling of sensitive items and ensuring precise positioning of workpieces. The device improves operator safety and working conditions by serving as an extension to the operator's' arm. The E-Balancer, ...

rotary manipulator
46 - 165 mm, max. 180° | MAN 10
The Minidex series' Man manipulator of Colombo Filippetti spa, are the mechanism with added groove and globoidal cams in a single unit whose work is to convert the uniform rotatory input into an appropriate combination ...

rotary manipulator
max. 500 mm, max. 90° | H-S
Carrying capacity: 10 kg
The H.. S of COLOMBO FILIPPETTI spa lineup is fitted with rotary manipulators that conjugate dual mechanisms and convert the input smooth rotary motion in the conventional motions of the rotary place and pick. That ...

linear manipulator
480 x 120 mm | H-T / H-TL
Carrying capacity: 30 kg
The COLOMBO FILIPPETTI spa product range contains a series of linear manipulators. These devices can conjugate double cam mechanisms, which can transform uniform input rotary actions into two-axis orthogonal linear motions ...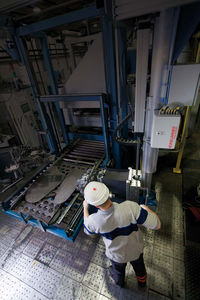 lifting axe manipulator
100 - 1 600 kg | ATL series
Carrying capacity: 100 kg - 1600 kg
The Konecranes ATL Vertical Lifter is a telescopic lifting device that is paired with the XA workstation crane. Unlike ordinary rope or chain hoists, it is capable of lifting up to 1,600kg of load outside its center of gravity. It ...

drum manipulator
max. 363 kg, ø 46 - 60 cm
The Morse Tilt-To-Load Drum Tumblers are designed to power-lift, and tumble drum "corner-over-corner" for through mixing of contents. The tumbler holds the drum in the desired angle to enable rotation of the drum with vigorous "corner-over-corner" ...

Morse model 286-1 MORSPEED 1000 forklift attachment allows you to grab, lift, move and place a 454 kg (1000 Lb.) drum in minimum time without leaving your fork truck. Raise and lower the forks to grab and release the drum. The steel ...

drum manipulator
max. 680 kg/d | MORSpeed™ model 288-2
The MORSpeed TM Forklift attachments is equipped with head and jaws that grip drum, and backrest, are made of spark resistant monel. Spark resistant parts reduce the possibility of mechanical sparks. They are not a substitute for grounding ...

drum manipulator
max. 363 kg | MORStak™
The MORStak Forklift Mounted Drum Racker is a safe device to move drums on and off pallets, trucks and racks with a forklift. An upright drum can be lifted and placed in a horizontal position. It can rack rimmed 55-gallon steel or plastic ...

vacuum manipulator
max. 320 kg | Liftronic® Series
... electronic zero gravity balancers has been introduced for material handling. Manipulators belonging to the INDEVA class have evolved into the present liftronic series manipulators. Models available ...
See the other products
Scaglia Indeva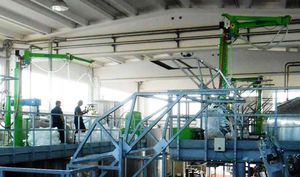 hanging manipulator
INDEVA Liftronic
See the other products
Scaglia Indeva

digital manipulator
Liftronic
See the other products
Scaglia Indeva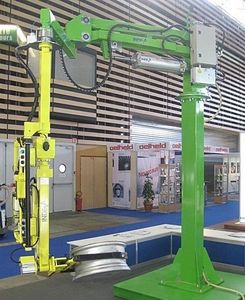 pantograph manipulator
max. 250 kg | Liftronic® Air
... represents the latest generation of industrial manipulators with pneumatic lifting force and electronic control. This intelligent system offers all the benefits of the traditional pneumatic manipulators, ...
See the other products
Scaglia Indeva

intelligent manipulator
max. 240 kg | Liftronic® Easy
Liftronic® EASY is an industrial manipulator beloning to the INDEVA Liftronic® series. It is designed for use in simple applications that has non-complex and rapid work cycles. It is used in combination with mechanic ...
See the other products
Scaglia Indeva

TAWI Drum manipulator is suitable for use in industries that make use of drums, such as pharmaceutical and food manufacturing plants. It has a vacuum cup that securely holds the drum, while the TH80 lifts the goods. ...

pneumatic manipulator
max. 22 kg
The TH80 with a pneumatic tool keg lifter is commonly used in the beverage industry. It is a lifter that can be operated and managed by one person. The lifter's pneumatic tool is controlled separately. Safety features are provided with ...

This specially designed TH80 fork tool is ideal for use in lifting wooden pallets and has become one of the most popular of its kind. The forks are inserted under the pallet, which can then smoothly and quickly be lifted a in singular ...

pneumatic manipulator
max. 80 kg
The TH80 manufactured by Tawi is a lifting device for automotive parts equipment. Due to high demands for effective lifting equipment in the automotive industry, TH80 is equipped with high precision positioning and high operating speeds. ...

pneumatic manipulator
max. 120 kg
The Reel Lifter is manufactured by Tawi, and is an outbalanced boom that is inserted into a large core of the reel of packaging material, and can be moved and equipped into the packaging equipment. The unit can equipped with a core ...

Carrying capacity: 0 kg - 500 kg
The Auto Roll clamps from Manuvit is used for lifting and handling of metal and plastic rimmed drums. This tool can be used in all types of forklifts. It offers detailed representation with its overall dimensions of 780 x 780 x 885 mm, ...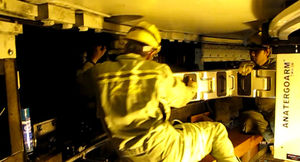 power manipulator
ANATERGOARM™ TMA-500
... avoid obstacles and it can be used in tight spaces. The manipulator arm can be controlled manually and it moves horizontally without friction, permitting a single operator to manipulate the arm ...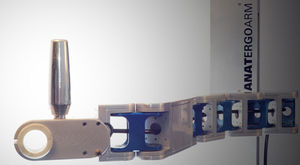 self-balancing manipulator
ANATERGOARM™ AEA-15
The ANATERGOARM™ AEA-15 is a bulky modular egronomic arm made of anodized aluminum which offers weight-less, secured and cosy method to position and use various pneumatic, electric and hydraulic devices. The ERGOARM™ is made of a perpendicular ...

vacuum manipulator
E series
The E series manufactured by Vacu Lift are pivoting devices equipped with flexible configurations for different loads and sensitive surfaces. The controller can optionally be carried out either manually, via actuators or a geared motor. ...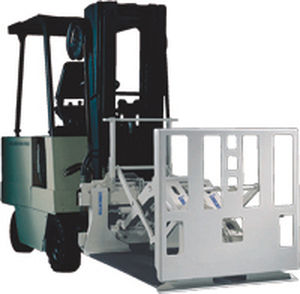 slipsheet manipulator
Sheet-Sav™
Carrying capacity: 1600 kg - 2050 kg
The Cascade Sheet-Sav™ push/ pull can handle a product on the slip sheets and then transfer it into a container while retaining the slip sheet. Transfers to a flatbed truck too are possible. It is popularly used to handle cement bags, ...
See the other products
Cascade

The drum clamps can help increase the yield by handling single up to four drums per load. These are also widely utilized in the petroleum, chemical and food processing industries that desire the handling of the standard 55-gallon drums. ...
See the other products
Cascade

concrete block manipulator
The Cascade Corporation offers a block handler that is capable to carry single and dual concrete cube that is made up with a single sideshifting design that enables of a steady positioning unit loads. It is equipped with an "over-center" ...
See the other products
Cascade

Designed for handling white goods such as refrigerators, washers and dryers.
See the other products
Cascade

Lightweight bin retainer for the agricultural market. Holds plastic and wooden bins securely during rotation. For bin inverting and dumping versatility.
See the other products
Cascade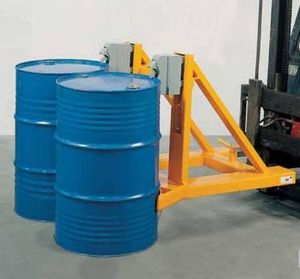 These pliers for drums aid in carrying 200 liter drums without damaging them. The gripping and releasing are controlled automatically in the driver's seat. These pliers can also transport goods vertically, and the grip is secure for ...

rotary/non-rotary manipulator
SH75
The SH 75 from Weiss is a lifting rotating unit equipped with a stroke range from zero up to 75 mm, which is freely programmable. The tool has a 10 Nm torque MT, and maximum 30 N of normal force. It is designed with independent servo ...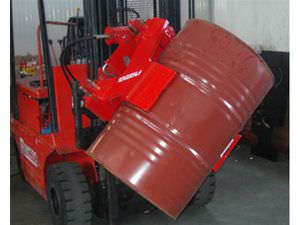 drum manipulator
600 - 1 000 kg | KG-T2 series
The KG-T2 from Bolzoni is a revolving clamp for 1 to 2 drums. The device is capable of 360° turn in both directions continuously. It is developed to handle the basic steel oil drums. The machine is equipped with arms fitted with interchangeable ...

tire manipulator
max. 1 000 kg, ø 500 - 1 600 mm | RA-NE series
The Bolzoni Auramo RA-NE Tire Clamp, a rotating clamp designed for applications involving the vertical / horizontal handling of tires and tire stacks, features a 180° rotation with a pivoting arm type of movement using short and long ...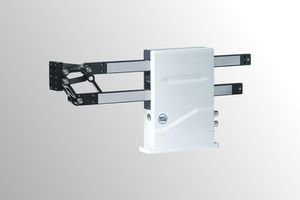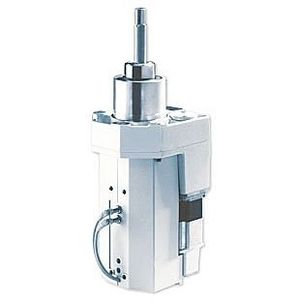 rotary/non-rotary manipulator
SH75

rope manipulator
max. 150 kg
MANIBO pneumatic rope balancers are essentially utilized for instant and recurrent operations of loads in production lines for loading and unloading of device machines for construction of mechanical pieces. Owing to the likelihood of ...
See the other products
MANIBO

hanging manipulator
max. 700 kg
... unit enables the user to move loads in a large area in the production zone. It utilizes electric hoists, and pneumatic manipulators. There are models available with load-bearing capacities of up to 700 kg, and various ...
See the other products
MANIBO

See the other products
MANIBO

See the other products
MANIBO

handling reel manipulator
See the other products
MANIBO

chain manipulator
max. 250 kg | GCHHK series
The Handy Chain Model by GIS is mainly designed to provide a good quality functionality and performance. It offers a non-expensive solution for transporting products from one place to another. It also features a fast change of suspension ...

manipulator with suction cup
max. 100 kg | Vacuhandling
GIS Vacuhandling is a vacuum manipulator which has a maximum capacity of 100 kg. With its step less raising and lowering action, it provides an easy, secured and smooth handling of goods. It has convertible and flexible ...

chain manipulator
125 - 250 kg | mini series
Carrying capacity: 125 kg - 250 kg
This device provides variable lifting/lowering speeds and precise positioning by using sensitive direct control. It offers one-hand operation for easily lowering, lifting and feeling of loads, and the manual trolley features manual traversing. ...