The Online Industrial Exhibition

These FE 71 applicator guns may be used with a pistol grip gun attachment, and is designed with a grip handle that comes with a switch. Due to these features, it allows operators to easily apply paste ...

The spray application needs a flexible component system which allows combining the necessary properties. Very important for a correct application temperature is the preheating of the spray air.
See the other products
UES AG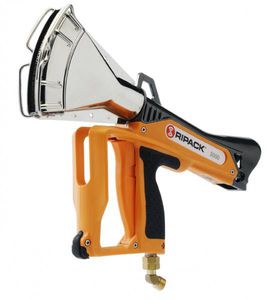 shrinkage gun
Ripack® 3000 series
... Series is a shrink gun used in packing a one meter Euro pallet in less than a minute. This gun has a heating power that is adjustable from 45 to 76 KW. Moreover, it functions saving time, while providing ...
See the other products
RIPACK SEFMAT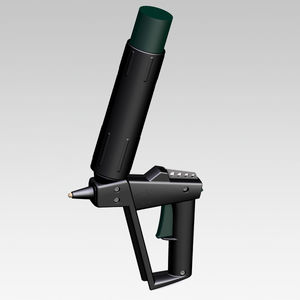 Pressure: 0.5 Pa - 20 Pa
The EasyStar is manufactured by ROBATECH. This handy glue applicator is ideally suited for applying thermoplastic hot melt adhesives in bead, spiral and spray patterns. The unit is characterized by its light touch and easy operation, ...
See the other products
ROBATECH

... produce quality welds accurately and in very little time. The tool consists of a generator that supplies power to the ultrasonic gun or pencil and a sonotrode for the type of welding required. Its light weight makes ...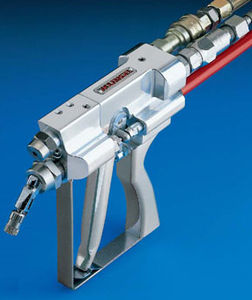 Gel coat spraying gun This HD-AM gel coat spraying gun has an extremely low weight of just 880 g and is easier to handle than a paint spray gun. The external mixing system guarantees ...

dispensing gun
2000 series
2000 series Applicator for two component epoxy resin.

This handheld applicator gun is a manual gun, suitable for applying and dispensing the 35, 47 or 50 ml dispensing systems by Devcon, for metacrylates and epoxies. In ...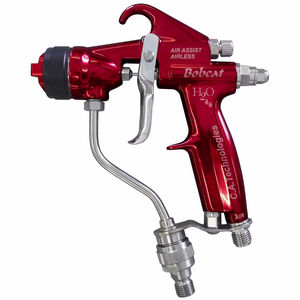 Pressure: 1,500, 1,000, 700, 350 psi
Bobcat Air Assist Airless C.A.Technologies introduces the latest addition to the CAT gun line - the Bobcat Air Assist Airless gun designed for production wood and metal finishing. Features include lightweight ...
See the other products
C.A.Technologies

... welding gun Application For securing heat consumption meters to panel radiators Mobility Maximum mobility through: special carry strap, weighs less - now 15 % lighter than previously! Comfort Maximum ...
See the other products
HBS Bolzenschweiß-Systeme

The revolutionary Hot-Air Tool The most advanced yet user-friendly product ever made by Sievert. The revolutionary DW 3000 represents the modern day hot-air tool. The innovative and modern design of the DW 3000 is breaking the classic ...

Pressure: 1,600 psi - 4,000 psi
See the other products
Tranmax Machinery Co., Ltd.

spray gun
FSP-Mini-Vario 2
Pressure: 1 bar - 4 bar
With flow cup and 2 suction cups with adapter Common features • Compact gun design and 0.25 l flow cup for smaller surfaces • Infinitely variable adjustment of the material quantity for efficient working • Flexible ...
See the other products
Schneider Druckluft GmbH

Mosmatic offers a wide variety of high pressure trigger guns. From our relax action guns that offer 90% reduced holding and 40% less trigger force to models with built in live swivels. Standard and Weep ...

dispensing gun
NEG - HG-3A series

... applications of water based paints, our Revolutionary electrostatic system Star 3001 does not need ATEX Cerification - The STAR 3001 gun allows you to paint both water-based and solvent-based removing and replacing ...
See the other products
Larius

The patented PS-0K stud welding gun is the smallest gun available on the world market (Pat. No. EP 89104362.2). It has been especially designed for use in extremely narrow locations and areas of difficult access.
See the other products
Soyer

Pressure: 10 bar - 15 bar
... versionF4 Plasma Guns Gun cooling jets and a wide variety of powder injectors and injector holders are available. Specifications F4 plasma gun Plasma Gases: Ar/H2, ...
See the other products
AMT AG

... spray guns provide the technology and confidence needed for most jobs and coatings. Binks Trophy Series Equipment provides all the utility and versatility you need to develop your production plan and execute it with complete ...
See the other products
Binks

It applies fluids without drip or ooze. This tool simplifies fluid application in assembly, maintenance and field repair. The most important is to be easy to mix different fluids with exact proportion

... are applied dispensing guns Sulzer and Mixpack, which allow the operator to dispense and mix two-component materials accurately. Manual mixing guns can be equipped with a mechanical ...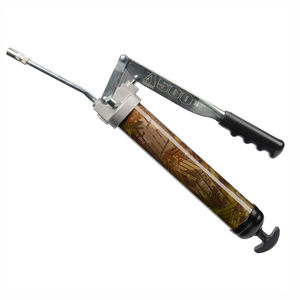 Pressure: 0 psi - 10,000 psi
FEATURES: Develops up to 10,000 psi pressure Rugged and light weight die cast aluminum head Vinyl cover for a comfortable and sure grip 3 way loading (14 ounce cartridge, suction, or fast refill from Alemite Loader ...
See the other products
Alemite

The manual and automatic spray guns have a large range of possible uses – water- or solventborne paints, as well as adhesives, glazes and other materials. Manual spray guns ...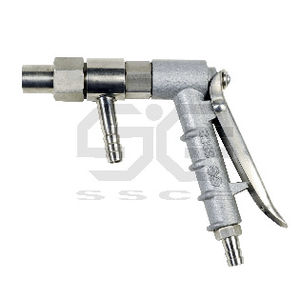 ... function includes deseaming, deburring, removing rust, paint, oxide scale and surface dirt in concrete and stone. SSCE-A2 manual blast gun can be used to blast either dry or wet sands. It is ideal for ...
See the other products
Shanghai Shengchang Industry Equipment

Mobile Device Robust bag design Microprocessor based controller card High stability, adjustable current and voltage, RS485 modbus communication, memory definition Coating transition points of porcelain Stable coating with various head groups.
See the other products
STR TECHNICAL MACHINE