The Online Industrial Exhibition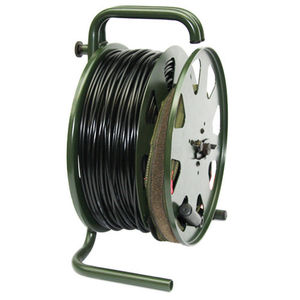 Hose/cable length: 200 m - 450 m
Hand Reels Steel or Elastomer The easy and perfect drum for short cable length Description: - Hand reels are available either in steel, galvanized and green colored ...
See the other products
Brugg Kabel AG

The hose on this reel, with swivel foot, can be wound quickly by crank. The swivel air connection makes rolling and unrolling under pressure possible. The coupling at the ends are revolving. The polyuretane (PU) hose ...

Hose/cable length: 60 m
... When the rod is moved, the reel registers the covered distance and it is displayed on the basic device's screen. Via the software, the position can be set to zero or any desired value. Well restraint The applied ...
See the other products
Kummert GmbH

Hose/cable length: 200 m
... inspection system is equipped with a manual cable reel with a 200 m solid camera cable. The cable reel holds max. 200 m of robust camera cable and offers winding support that the camera ...
See the other products
iPEK International GmbH

Hose/cable length: 10 m - 30 m
Product Description PROFILE Series JT cable reel driven by volute spring can releasing and rewinding power cable automatically. It is suitable for many applications which need to move the power cable such as lifting magnet, ...

hose reel
HRA3V01, HRA3J01
Hose/cable length: 15, 20 m
The heavy duty hose reel is designed specifically with that in mind. PCL's Heavy Duty Hose Reel incorporates reinforced outer casing, double integral mounting brackets and full brass swivel sleeve and ...
See the other products
PCL

Hose/cable length: 8 m
Features Hose reel for urea. Available with or without fitted hose. General features • hose length 8 m • Ø 19 • input/output 3/4″ Fluids • Urea • Ad Blue® • AUS 32

Hose/cable length: 0'00" ft - 110'00"
Alemite Hand Crank Reels are designed for heavy duty industrial or outdoor use, where long hose lengths are important. FEATURES: Adjustable spool rotation drag eliminates hose backlash Permanently ...

See the other products
Yamada Corporation

Hose/cable length: 20, 25, 40, 50 m
Economical Range Of Cable Reelsl Drum made of unbreakable thermoplastic material, a stable zinc coated foot frame that is shock absorbent, and a drum brake to avoid unreeling. Overheating protection by thermal switch. 4 socket outlets ...
See the other products
as - Schwabe

cable reel
PRO PLUS series
... becoming exposed. Fitted with friction brake and with an operating temperature range of -200C to +400C. Available in two reel sizes, SP235 and SP266. Other versions available.
See the other products
Marcaddy

vacuum hose reel
V series
Hose/cable length: 25'00"
The Coxreels V series is a spring controlled portable crank vacuum hose reels which is accessible in pneumatic and vacuum modifications. All modification are made to extract hazardous fumes and by products ...
See the other products
Coxreels

... mobile is the latest extension to Macron's range of hose reel products. Although new, the Series 125 has an excellent pedigree and shares many components with the kitemarked series 55 and 70 hose reels, ...
See the other products
MACRON SAFETY SYSTEMS

Hose/cable length: 50 m
Input: 50 meter cable HO7RN-F 3G1,5 with CEE 16A 230V 3P Output: 4x 16A 230V with thermal protection Weight: 8,6 kg Model Code: 443-00-106

Length mm:0 Width mm:0 Height mm:0 Intrastat: 39173300 Weight kg:8.85 Warranty:24 Months

Hose/cable length: 20, 30 m
6.5X10MMX30M, Hose length: 30M (100 FT) 6.5X10MMX50M, Hose length: 50M (165 FT) 8X12MMX20M, Hose length: 20M (66 FT) 8X12MMX30M, Hose length: 30M (100 FT) 8X12MMX40M, Hose length: 40M (132 FT) 8.5X12.5MMX20M, Hose length: 20M (66 ...

Hose/cable length: 50 m - 150 m
MANUAL CABLE DRUM steady slip ring cable drum 50 - 150 meter (164 - 492 feet) kevlar-reinforced, extra persistent, abrasion and acid resistant camera cable quick-change system for pluggable camera heads precise ...

Hose/cable length: 12, 17, 24, 36 m
... represents our manual hose reels made from deep-drawn sheet steel of highest quality, powder coated. The drum is moved through a rotary foldaway polyamide crank handle. A steel bow prevents a hose rollover ...
See the other products
Teha

Hose/cable length: 10 m - 50 m
MAIN TECHNICAL FEATURES: • Cable reels with plug firmly fixed to the cable type S31/S17 16A. • Rated voltage 250V- - 50Hz - insulation voltage 500V-. • Sockets with protected poles against accidental contact. • Thermal ...
See the other products
Elettrocanali

PVC-cable H05VV-F, for use in dry environment High-quality plastic design. Reel diameter Ø 255 mm. Optimum price/performance ratio. For the handyman
See the other products
HEDI GmbH

The BOF series, which is manufactured by Tesmec, is a cable reel made of welded steel with a protective layer. A removable side, and its conical drum simplifies detachment of rope or conductor coil. The BOF series are ...

Hose/cable length: 25'00", 50'00"
... washers. RGFs' High Volume Wash Points (OI-015, OI-023 & OI-046) are designed to work in conjunction with all of the hose reel assemblies.

From the Ecopalbox range, the Boxdrum hose and cable reel is constructed using pure corrugated cardboard. It is characterized primarily by its purely recyclable and eco-sustainable design. The reel is ...

Hose/cable length: 20 m - 50 m

Reel with heat-treated sides and chemical resistant epoxy paint
See the other products
Streator Dependable