The Online Industrial Exhibition

indentation test device
PMA-1000
... user-friendly testing device, the ChemInstruments Probe Material Analyzer is carefully designed so you can characterize a variety of materials through the insertion, dwell and retraction ...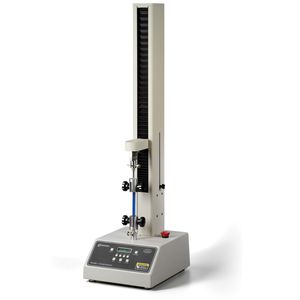 compression test device
TT-1100
Ideal for universal tensile tests, the ChemInstruments Tensile Tester is a versatile machine that provides powerful test performance for a variety of materials. It is designed to meet ...

... PowerTear allows for a wide range of capability for testing both light and heavy weight materials. -Test weights and check weights A-D included (8 N, 16 N, 32 N, 64 N) -Test weight and ...

... compacted areas and ineffective rolling of materials. A special lightweight version of the Tester is also available for checking sports turfs whilst a heavy duty version is supplied for testing harder materials ...

electric test device
BORFLEX
PRODUCT BORFLEX Pipe Joint Test Apparatus SIZE DN500 - DN4000mm PRESSURE max.3 bar-air, max.6 bar -water with RUBBER EPDM MATERIAL-Band AISI 304 INSIDE BODY St37 steel epoxy covered

stiffness test device
79-05
... angle and rate of loading provide accurate and reproducible test results. APPLICATIONS Paper, Cardboard, Plastic, Metals, Fabric, Felt, Leather, Rubber, Wire, Tubing and other Sheet Materials MODELS ...

flash-point test device
HFP 339
... flash point automatically in strict compliance with the appropriate test method. In addition to standard test methods, the HFP 339 may be programmed with user-defined test protocols to ...
See the other products
PAC

flash-point test device
FP92 5G2
... reproducibility. Operation couldn't be easier; simply select from a list of pre-programmed testing conditions, then press the Test key. Test progress displays in real time on the easily viewable screen.
See the other products
PAC

impact test device
JIS-C3005 | 124
... is used to conduct impact tests on rubber and plastic electric insulated wires. The operator is to check the number of disconnections to each of the wires, cracks, and breakage of insulating materials ...
See the other products
YASUDA SEIKI SEISAKUSHO, LTD.

dielectric test device
5 - 50 kV | 175
This machine is a device for making dielectric strength test of solid electric insulating materials such as plastic pipe, plate and film in an air or oil oven held at ...
See the other products
YASUDA SEIKI SEISAKUSHO, LTD.

impact test device
IM10 series
... performing a wide range of medium energy tests on materials, specimens and end products of various geometry Key features: Laboratory grade instrumentation and very rigid construction for highest ...

impact test device
0.25 - 1000 J | HIT
The Horizontal Impact Tester from Imatek brings a stunning new approach to the world of material testing. Its patented design uses a linear electric motor to achieve high rates of deformation in a compact, bench height, ...