How to choose this product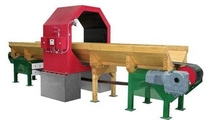 Metal detectors are used on packaging lines and conveyors to detect the presence of undesirable metallic objects. They can take the form of large machines or portable devices.
Applications
These devices are used in the food and pharmaceutical industries to ensure the absence of metallic contaminants from the products. In the lumber industry they are used to detect nails, shrapnel and other metal bits before wood is sawed. The textile industry uses them to remove any needles that might remain from fabric or garment manufacture. Other uses include the handling of bulk products.
Technologies
Large detectors are designed to be integrated into horizontal conveyor systems, fill chutes and packaging lines. They can be used with liquid or solid products. Some include a separator or a checkweighing function. They can be adapted to different flow speeds and their sensitivity is adjustable. They can detect all types of metal, including magnetic and nonmagnetic, ferrous and nonferrous, and high-resistivity stainless steel.

Portable models are used with headphones or a speaker. An audio signal indicates the presence of metal.
How to choose
Metal detectors are characterized by maximum acceptable line speed, sensitivity, immunity to interference and response time.