The Online Industrial Exhibition

overband magnetic separator
DND-MC
... WALMAG MAGNETICS overband magnetic separator can be fitted with special pusher in order to remove the metallic parts more quickly, easily and effectively. Another possibility is to place the overband ...
See the other products
WALMAG MAGNETICS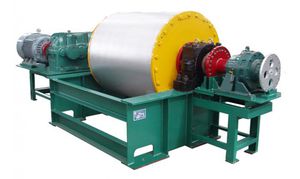 magnetic separator
CTDG series
... increase mineral resource utilization. Steelworks: steel scrap disposal, recycling iron. Waste disposal: separating magnetic metal, improving environment. Advantage of dry permanent magnetic separator High ...
See the other products
Anhui Tianyuan Technology Co.,Ltd

... powders and granulates. The devices are available to produce all contact parts which are constructed with 316 grade stainless steel design and fully sealed. The Magnetic performance is guaranteed, ensures efficiency ...
See the other products
ECLIPSE MAGNETICS

... magnets at high Hc it can be obtained megnetic field nearly as strong as the ones obtained by corresponding electromagnet separators offering at the same time the following advantages: no consumption of energy constant ...
See the other products
Magnetica Torri s.r.l.

... ventilation. The TED separator must be mounted on a special structure calculated and sized so as to sustain the weight of the magnet and the ferrous bodies attracted by it, ensuring that there are no high permeability ...

magnetic roller separator
... change-out costs. The Magnetic Separator may be added to the Bed Filter Tank System for multi-layer protection or used alone where there is ferrous metal contamination. The Magnetic Separator ...

magnetic separator
MAGGIE series
Filtration size: 1 µm - 5 µm
Flow rate: 12 us gal/min - 250 us gal/min
... ferrous contaminants are present/introduced. The fully automatic, in-line, high intensity, self-cleaning, patented magnetic separator is the best available technology for separating magnetic contaminants from process ...

high-gradient magnetic separator
ZTLGT
Width: 1,360 mm - 5,300 mm
Flow rate: 0.25 m³/h - 650 m³/h
... technical problems in the world. The magnetic media found between the flat ring strong magnetic separator and flat ring high gradient magnetic separator is prone to clogging. The unit has a large ...
See the other products
Shanghai Joyal Machinery Co., Ltd.

Width: 30 in - 60 in
... eddy current separator ejects the aluminum with the same force as a magnet pulls steel. CP's Eddy Current Separator easily separates aluminum cans from other materials in the material stream. As aluminum ...

... Magnetic Separator delivers precise and efficient sorting of ferrous metals from inert materials (glass, coal, plastic, paper, wood, garbage, fertilizers, etc.) and non-ferrous metals ...
See the other products
Cogelme

... machines in Cable and Metal Recycling Systems. The Separation Tables will by well balanced combinations of air flow and oscillating movements produce an effective separation of metal and insulation. Main ...

metal separator
Metal seperator
Metal separators from motan can be installed at various locations in a production and for multiple applications. The metal separators prevent damage to your processing ...

electromagnetic separator
USED FOR - Extraction and removal of tramp metal from base material BEST SUITED FOR - Belt conveyor FEATURES & BENEFITS - easy maintenance - doesn't require additional cooling - energy efficient design

... to prevent them from going into a stationary piping system. The FA7 pre-separator is idealic in vehicle repair shops, metal fabrication industries and wherever scraps of glass, metal ...