The Online Industrial Exhibition
{{#pushedProductsPlacement4.length}} {{#each pushedProductsPlacement4}}

{{#if company.requestButtonsVisibility.requestButtonQuestion == "ACTIVE"}}
{{elseif company.requestButtonsVisibility.requestButtonWhereToBuy == "ACTIVE"}}
{{/if}}
{{product.productLabel}}
{{product.model}}
{{#each product.specData:i}} {{name}}: {{value}} {{#i!=(product.specData.length-1)}}
{{/end}} {{/each}}
{{{product.idpText}}}
{{#if product.newProduct}} {{/if}} {{#if product.hasVideo}} {{/if}}
{{/each}} {{/pushedProductsPlacement4.length}}
{{#pushedProductsPlacement5.length}} {{#each pushedProductsPlacement5}}

{{#if company.requestButtonsVisibility.requestButtonQuestion == "ACTIVE"}}
{{elseif company.requestButtonsVisibility.requestButtonWhereToBuy == "ACTIVE"}}
{{/if}}
{{product.productLabel}}
{{product.model}}
{{#each product.specData:i}} {{name}}: {{value}} {{#i!=(product.specData.length-1)}}
{{/end}} {{/each}}
{{{product.idpText}}}
{{#if product.newProduct}} {{/if}} {{#if product.hasVideo}} {{/if}}
{{/each}} {{/pushedProductsPlacement5.length}}

The 5335B is a compact, single-phase AC / DC power meter for measuring and analyzing power consumption and power quality parameters quickly and accurately. It supports power measurements up to 600 Vrms and 20 Arms, with ...
See the other products
B&K Precision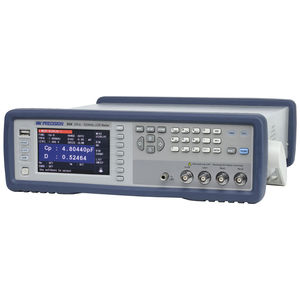 The 894 and 895 are high accuracy LCR meters capable of measuring inductance, capacitance, and resistance of components and materials at DC or from 20 Hz to 500 kHz or 1 MHz respectively. These LCR meters ...
See the other products
B&K Precision

The 894 and 895 are high accuracy LCR meters capable of measuring inductance, capacitance, and resistance of components and materials at DC or from 20 Hz to 500 kHz or 1 MHz respectively. These LCR meters ...
See the other products
B&K Precision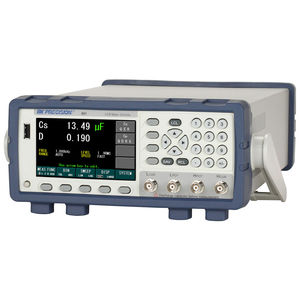 The 891 Bench LCR meter is capable of measuring inductors, capacitors, and resistors at DC or from 20 Hz to 300 kHz. The instrument's compact 2U half-rack form factor is suitable for the bench or rack mount installation. ...
See the other products
B&K Precision

The B&K 889B is a Bench LCR/ESR meter with component tester. This is the ideal tool for accurately testing and measuring inductors, capacitors and resistors. It has an accuracy of 0.1%. The unit has the ability to accurately ...
See the other products
B&K Precision

diameter meter
TESA UNIMASTER
TESA UNIMASTER Universal Measuring InstrumentThe perfect instrument for internal and external measurements of large dimensions. The complete UNIMASTER set offers accessories minimising geometric errors of the instrument as well as human errors.

optical meter
Optiv Classic
The Optive Classic opens the gateway to 3D multisensor technology. The Optiv Classic measuring machines are known for being compact and economical. They have an impressive price to performance ratio due to their durable table design. ...

alcohol content meter
Alex 500
Alex 500 is a compact alcohol and extract meter that frees wine producers from the need for external laboratories. The reliable lab-grade analyzer determines your wine's alcohol and total extract content whenever you ...
See the other products
Anton Paar

density meter
Alcolyzer Spirits M/ME
... determines the alcohol content (35 to 65 %vol), color, and pH value of alcoholic beverages. In combination with a density meter, the system additionally determines the total extract of the sample. Expanding the system ...
See the other products
Anton Paar

density meter
Alcolyzer Wine M/ME
... Wine M/ME wine analysis system to determine the alcohol content of your wine quickly and easily. When combined with a density meter, Alcolyzer Wine M/ME determines further parameters in a single cycle, e.g. extract content. ...
See the other products
Anton Paar

pH meter
pH Beverage Measuring Module
The pH ME Beverage Measuring Module or pH ME Measuring Module add a further measuring parameter to your Generation M density meter – the pH value. The measurement is performed with commercially available combined pH electrodes.
See the other products
Anton Paar

CO2 concentration meter
CboxQC™
CboxQC™ At-line is the combined portable CO2 and O2 meter for measurement directly from process lines, tanks, kegs and casks during production and bottling. For the utmost flexibility, the instrument's new and robust ...
See the other products
Anton Paar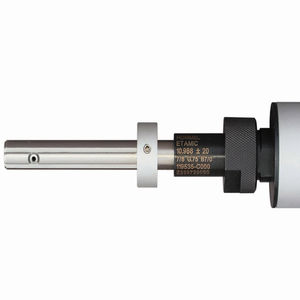 diameter measuring device
Dimensional metrology checks the diameter, length, spacing, shape and position of your workpieces. Three different measuring methods are used for this purpose: pneumatic, tactile and optical. The metrology you choose depends on which ...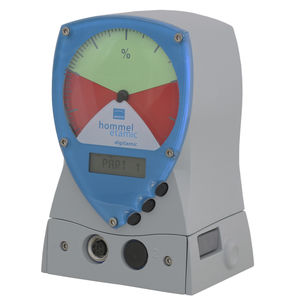 digital measuring device
Gageline Digitamic
The Digitamic measuring and display instrument is particularly well suited to performing high-precision dimensional measurements. The measurement accuracy is just 1% of the measuring range. You can connect the device to one or two inductive ...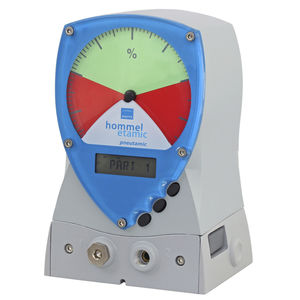 digital measuring device
Gageline Pneutamic
With the Pneutamic digital measuring instrument, you can perform reliable and efficient dimensional measurements during production and final inspection. Simply connect the device to our high-precision pneumatic gauging components – such ...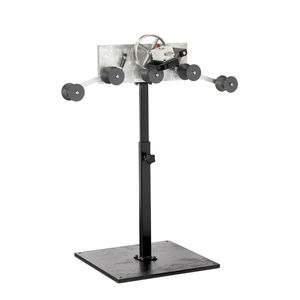 Analogue meter counter with decimal precision. - universal balancing arms and roller guide for hoses from ¼" up to 1" in diameter; - suitable for any cutting machine; - adjustable height, based on that ...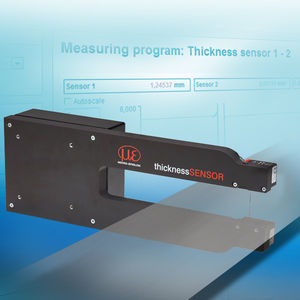 Laser-optical thickness measurement The new thicknessSENSOR from Micro-Epsilon opens up even more diverse application possibilities in terms of non-contact thickness measurement. The sensor works extremely precisely combined with ease ...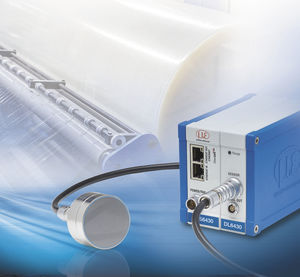 measuring device
combiSENSOR
In its sensor housing, the combiSENSOR combines an eddy current displacement sensor and a capacitive displacement sensor. This unique sensor concept enables one-sided thickness measurement of electrically non-conductive materials on metallic ...

constraint meter
eddyNCDT SGS 4701
Measuring spindle growth in high speed milling machines In order to minimise positioning errors in machine tools, the eddy current sensor SGS 4701 measures the thermal extension of high-frequency spindles. The spindle is at the heart ...

geometry meter
dimensionCONTROL 8260
The dimension control 8260 for Ingot is a measuring system that inspects the surface of the bricks. It uses several laser line scanners for measuring side lengths, angles, phase lengths, planarity and diagonal surfaces of the side surfaces ...

earth resistance meter
HT M71
The M71 meter is a device manufactured by HT company. It was made to perform the Earth Resistance measurement that have 2-wire and 3-wire standard methods having a measurement range of 50 kOhm. The calibration of test ...

earth resistance meter
HT M73
The M73 Portable meter for global earth resistance, RCD tests and TRMS multimeter is included in the four models of the new Multitest group of prtable meters. It is specifically designed to perform Global ...

The M75 was developed by HT Italia, and is an 800-gram, multifunction TRMS DMM that performs a safety test on electrical plants and a wire mapping test on LAN cables. It is a professional instrument with a DC voltage, an AC TRMS voltage, ...

distribution switchgear meter
MACROTEST5035
The MACROTEST5035 is a multi-function meter designed for test verification on electrical installations in adherence to VDE 0413 standards. It functions by providing insulation resistance equipped with test voltage that ...

multifunction meter
HT M75
The M75 by HT is a multi-function electrical measurement device which comes with a DMM, Safety Tester and LAN checker features. It features its compact and ergonomic design which is user friendly and extremely low in weight for about ...

The KGM grid encoders provide dynamic testing of CNC-controlled machine contouring accuracy. Circular interpolation, with radii from 1 µm to 115 mm at 80 m/min (max) feed rates, and free-form tests in two axes can be performed. ...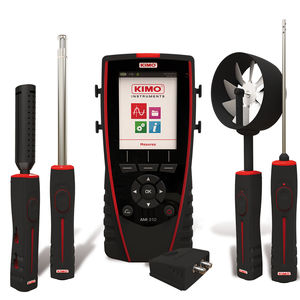 multifunction meter
AMI 310
Kimo's AMI 310 measures simultaneous parameters including pressure, temperature (Pt100 and thermocouple), humidity, air quality (CO/CO2), air velocity, airflow (vane probes and hotwire), and tachometry. - Measurement of hygrometry, temperature, ...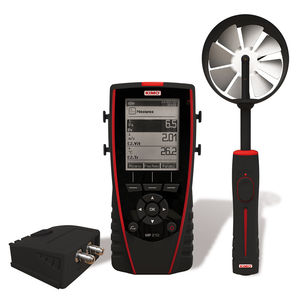 multifunction meter
MP 210
There are various functions available for this particular model, including velocity, pressure, airflow and air quality. There are no less than 8,000 measuring points available, and the item also comes with the optional DATALOGGER software, ...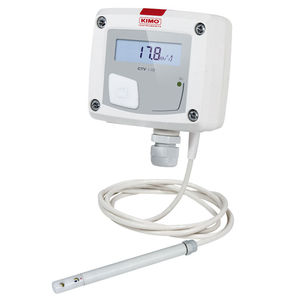 temperature meter
CTV 110
Available from 0 to 30m/s with a duct mount model ranging from 0 to +50°C, this standard and remote model can range from 0 to +50°C. It has an ABS housing of IP 65, including duct and remote mount models. This housing comes with a simplified ...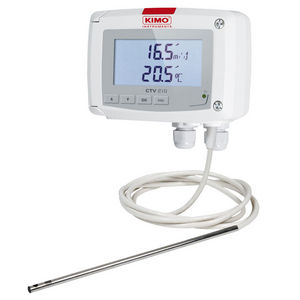 air velocity meter
CTV 210-R
The CTV 210 air velocity and temperature sensor has two analogue outputs that are activated independently or together to select between air velocity, temperature and air flow. It measures 0 to 50°C in temperature with a trend indicator, ...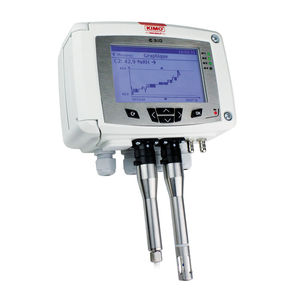 multifunction meter
C 310
Kimo hot-wire anemometer can handle a range of 0-1 m/s to 0-30 m/s and 0 to +50°C. Intermediary and central zero ranges can be configured. With an airflow function, it features an interchangeable measurement probe. ...

air quality meter
C.A 1051
Chauvin Arnoux C.A. 1051 is a complete measuring and analysis tool for heating, AC and ventilation fittings. This user-friendly, handheld measuring tool offers accessibility to numerous functions. CA 1051 combines the functionality ...

The ORITEL RW521 directional wattmeter, designed primarily for portable use, gives accurate readings at power levels and is very relaiable in identifying any problem in the antenna system. This instrument, which measures from +5 to +40dBm ...

multifunction meter
VISUALL s Enerdis
... Enerdis to provide a cost-effective solution for measuring main parameters on an electrical installation with a built-in hour meter. This one of a kind technology can measure the parameters on electrical installations ...

PR300 is panel mountable and is a meter that is designed to cater to two user needs, namely, as a mountable meter for energy savings and a power facility meter. It is fitted with a large ...

... basic power accuracy: 0.02% of reading, 2A current input element and has good readability with an 8.4-inch LCD and the range indicator LEDs. There are also other features like simultaneous measurement with 2 units ...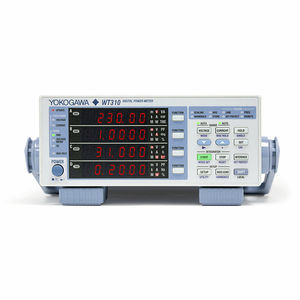 The WT300 Series Digital Power Meters provide ideal equipment for a range of measurements such as stand-by-power and battery charger measurements, Energy Star®, and IEC62301 testing. These models belong to the 5th generation ...

optical meter
AQ6150 series
The AQ6150 Series Optical Wavelength Meter is an ideal instrument for accurately measuring the optical wavelength of optical devices and systems used in telecommunication applications from 1270 to 1650 nm (including C&L ...

cutting edge meter
InTap4000e / InTap4004e
The fully integrated, portable DO Measurement systems are especially designed for the requirements in the beverage industry and provide easy sample handling. The portable systems are available with a multitude of especially dedicated ...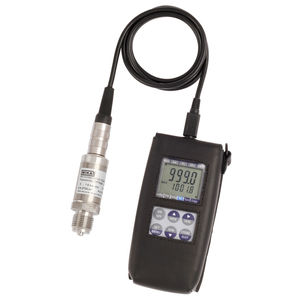 pressure meter
CPH62I0-S1, CPH62I0-S2
This digital hand held pressure indicator has interchangeable, plug and play pressure sensors with varying measurement ranges (from 0-100 mbar to 0-1,000 bar) and 0.2% accuracy. This pressure indicator is intrinsically safe, and its quality ...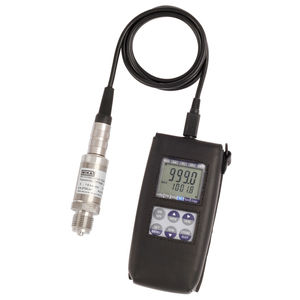 ... and control laboratories Quality assurance Leak testing Special Features Robust and waterproof digital indicator with interchangeable pressure sensors (plug-and-play) Pressure ranges from 0 ... ...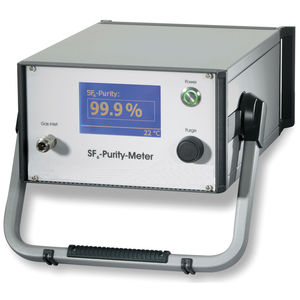 ... minutes total Compact, lightweight Low maintenance Touch-screen interface Field proven designThe WIKA SF6-Purity Meter is a cost effective way to determine if the SF6 percentage in SF6-filled equipment meets ...

Condensation monitors like EE46 are used to check on the condensation on chilled ceilings and to prevent condensation from forming on critical areas of HVAC systems. As it can monitor dewpoint, it can also be used for systems near dewpoint. ...

temperature meter
OMNIPORT 30
The OMNIPORT 20 series is a handheld meter that is specifically manufactured for accurate measurement of various physical quantities, such as, humidity, temperature, dew point, air velocity, volumetric flow and air pressure. ...

temperature meter
OILPORT 30
The OILPORT 30 handheld meter is dedicated to portable monitoring of moisture and temperature in oil. The simple and intuitive operation via TFT touch screen and the built-in data logging function make the OILPORT 30 ...

universal balancing task meter
CAB 820, CAB 920 SmartTouch
The CAB 820 and CAB 920 are designed for measuring units for universal balancing that presents clear and colored display. Data input is performed through Touch Screen which uses a digital processor of measured data for superior accuracy ...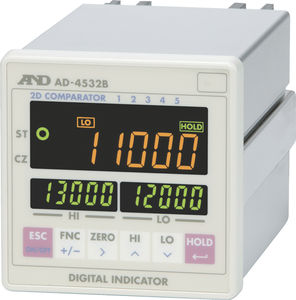 force meter
±0.25 mV/V ... ±3 mV/V | AD-4532B
Super high-speed sampling at 2000 times/second. Digital hold and peak hold functions. Ideal for measuring the dynamic phenomena of loads, pressure, torque, tension, etc. The AD-4532B is equipped with a 2D (5-level) comparator function. ...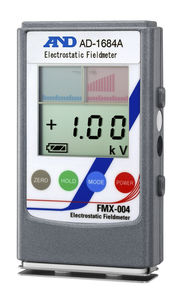 electrostatic field meter
max. ±30 kV | AD-1684A
The AD-1684A is an electrostatic fieldmeter designed for detecting the existence of static electricity, which is often the cause of inaccurate weighing. The AD-1684A can be used for measuring the electrostatic charge of measured objects ...

water absorption meter
Farinograph-AT
Farinograph-AT: The standard instrument for measuring flour quality with new automatic titration system What does it measure? The Farinograph-AT measures the flour water absorption and the kneading characteristics of dough. Why is this ...

water absorption meter
Farinograph-E
Farinograph-E: The standard instrument for measuring flour quality What does it measure? The Farinograph-E measures the flour water absorption and the kneading characteristics of dough. Why is this important? - Estimation of the optimum ...

water absorption meter
Farinograph-TS
Farinograph-TS: The standard instrument for measuring flour quality with new, web-based software What does it measure? The Farinograph-TS measures the flour water absorption and the kneading characteristics of dough. Why is this important? - ...

Dimensioning is defined as measuring the dimensions of a pallet or package. The result is called the volume. Volume and weight are significant factors for logistics, transport and cargo companies because they determine the cost of the ...

surface meter
Surfcom 130
SURFCOM 130 is a compact tracing driver made for mobile use in production. This free stylus-and-arm system is capable of producing highly precise results. Waviness is measured through its 50 mm tracing driver while the roughness on radii ...

roundness meter
Rondcom 76
The Zeiss RONDCOM 76 is a spindle form testing instrument for bulk work pieces, which ensures "most expansive precision and effectiveness in its classification". It features fully automated control mechanism, complete with 7 axes, minimized ...

This meter is capable of determining the power of laser or LED light sources. It is also designed to measure fiber optic cable attenuation when using a stable light source. The meter is able to measure ...
How to choose this product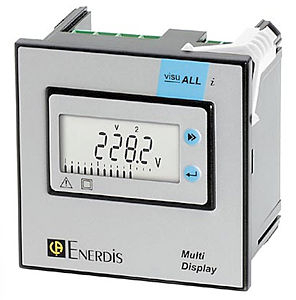 In a broad sense, measuring devices quantify physical parameters. The measured quantity's numerical value is a number that establishes a relationship between said quantity and a given measuring unit.
Applications
These devices are used in all areas of industry and science for a wide range of experimental, project or test measurements. The Instrument can be bench or portable, with direct or remote readout. Main applications include measuring and analyzing temperature, pressure, flow and material characteristics.
How to choose
Choice of device will depend on the measurement type and scale, standard and extreme values and the measuring environment.