How to choose this product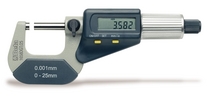 A micrometer is used to measure very small distances. There are both outside and inside versions for measuring external or internal dimensions.
Applications
These devices are used in mechanical engineering and machining to check the dimensions of machined parts.
Technologies
Analog models have two graduations, one on the sleeve, the other on the rotating thimble. The sleeve may include a vernier scale, as well. Digital versions display results on an LCD screen instead of a scale.

Outside micrometers, or calipers measure exterior dimensions of an object held between the anvil and the spindle. Specialized models measure depths or the height of a crimp or beading. Inside models measure interior dimensions. Bore micrometers include two- and three-anvil versions, the latter offering greater accuracy. Other types measure thread pitch diameter.

Certain digital bench micrometers are even more accurate, taking into account temperature-induced dimensional change, as well as that from the force applied to the object. Others are used for positioning measurements. Optical laser versions are used for contour measurements or to check for defects such as fissures, surface irregularities or scoring.
How to choose
Micrometers are characterized by their resolution, precision and maximum measurable dimension.