How to choose this product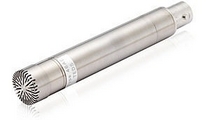 A microphone is a transducer that converts the acoustic pressure generated by sound waves into electrical signals. It usually is housed in a quarter- or half-inch tube equipped with a cable.
Applications
Microphones are present within telephones as voice transducers, and also are used in the realm of acoustic measuring. Sound-level meters use microphones to record noise levels. Measurement microphones are distinguished by operational setting, i.e., for interior (diffuse field) or exterior (free field) use.
Technologies
Electrostatic microphones are more sensitive than coil microphones and function in a wider frequency range. They use a condenser whose capacity varies with the membrane's movement. A power supply is necessary to polarize the condenser and pre-amplify the output signal. If the condenser is pre-polarized, the microphone is an electret microphone. In this case the power supply can be phantom, using a three-wire connection (or a two-wire with a battery). The electret's polarization declines over time.

Sound pressure microphones are omni-directional. Pressure gradient models are directional. Parabolic reflector microphones are extremely directional. Other common types include piezoelectric, MEMS-type (with a diaphragm etched into a silicon chip) and hydrophones.
How to choose
The directivity diagram, the mV/Pa sensitivity, bandwidth, signal and construction quality are essential elements to consider.