How to choose this product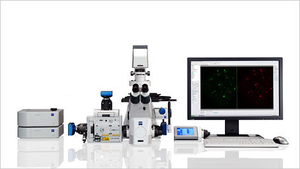 A microscope is used to examine objects whose details are too small to be distinguished without enlargement. The three principal types are optical, electron and local probe.
Applications
These instruments are used for the analysis of biological specimens and in industry for the examination of surfaces and microstructures.
Technologies
Optical microscopes differ in their illumination, polarization and filtering systems. Confocal models use a laser to obtain excellent resolution. Biology employs fluorescent models to observe specimens carrying a fluorescent marker.

Electron microscopes employ an electron beam focused by electrostatic and magnetic lenses. Transmission electron microscopes (TEM) are used to analyze sections, while scanning versions (SEM) are used for surface analysis. They offer magnification up to two million times.

Local probe instruments use a tip sensitive to atomic forces engendered when it nears the specimen. The atomic force microscope (AFM) determines surface topography, while scanning tunnel models (STM) sense the electronic density of conductive surfaces. Near-field microscopy uses a collecting evanescent wave probe. Resolution can reach the atomic level, depending on the microscope.
How to choose
Choice will depend primarily on instrument magnification, resolution and technology.