How to choose this product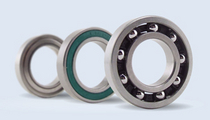 Miniature bearings provide precise rotational guidance in very small mechanical systems. They are generally rigid single-row bearings, are easy to integrate, and are capable of higher rotation velocities.
Applications
Such bearings are used in different industrial branches. They can be found in any device requiring high precision and elevated rotation speed, including computers, instruments, automobiles, fishing equipment, household appliances and scale models.
Technologies
Miniature bearings, usually made of steel, are composed of two coaxial races separated by a row of ball bearings held in place by a cage. As with larger bearings, they are available with or without a protective ring.