How to choose this product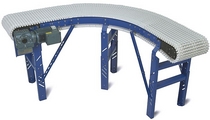 Modular conveyors function like regular versions (roller, belt, etc.), transporting goods and materials from one place to another. They come in different sizes and shapes. Their main advantage is that a damaged section can be easily replaced and repaired with minimal cost and downtime. Adaptable to most situations, such conveyors are used in many different industries.
Applications
The applications for these conveyors systems are numerous, from medicine and food processing to manufacturing.
Technologies
Modular conveyors use both roller and belt technologies, with the same functionalities as non-modular versions.