The Online Industrial Exhibition

milling motor spindle
F.55
Rotational speed: 600 rpm - 4000 rpm
Choice of the type of bearing is according to application: - For drilling and milling applications = F.50.RC - adjustable taper roller bearings pair. - For boring and reaming applications = F.50.CO - set of three precision and pre-loaded ...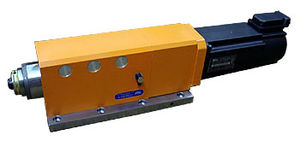 Rotational speed: 6000 rpm
Boring & Drilling Threading Tapping, Facing Grooving Milling Center Drilling Chamfering Deburring further inner and outer machining operations also with facing heads to realize contours, conical threads and grooves, etc.