How to choose this product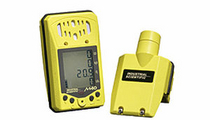 A multi-gas detector is a bench or portable device for the protection of those working in risky environments. An alarm sounds if it detects an abnormal concentration of a dangerous or polluting gas.
Applications
Portable detectors protect personnel from exposure to explosive or toxic gases in areas where batteries or vehicles are present and in the chemical and petroleum industries. They are also used for leak detection. Furnace rooms, refrigeration installations and dangerous gas storage areas can be equipped with fixed units connected to a central surveillance post.
Technologies
These devices measure the concentration of oxygen, potentially explosive gases and volatile organic compounds. Of particular concern are carbon monoxide, ammonia, hydrogen sulfide, chlorine, hydrogen chloride, nitrogen oxides, sulfur dioxide and carbon dioxide.

Portable versions must be easy to read and have a loud alarm; some also include a vibration alarm and/or a flashing light. A sampling probe with a pump can be used to test the air within a room or a container before it is opened.

The detector has an auto-test feature, but must be checked and calibrated on a regular basis using certified standard samples, especially for flammable gases such as methane and pentane. The sensor cells should be changed periodically.
How to choose
Choice will depend on the nature of the area to be protected and the sensor cell options.