How to choose this product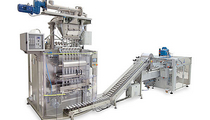 Multi-lane VFFS (vertical form fill seal) machines are capable of forming, filling and sealing multiple sachet packages at the same time. As with other VFFS machines, both packaging and product arrive vertically. They can effectuate three or four seals, delivering individual packages at high speed while guaranteeing correct fill quantities.
Applications
Rapid and versatile, these machines are used in many different industries for packaging liquids, granules, powders and other materials.
Technologies
Multi-lane machines use the same basic technology as other VFFS equipment. However, their multiple feeders form many packages side-by-side.
How to choose
The choice largely depends on the material to be packaged and the size and form of the final package.
Advantages
- High throughput
- Multiple packages