How to choose this product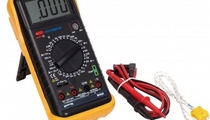 Multimeters measure AC and DC electrical current, voltage and resistance. They generally feature complementary functions.
Applications
These devices are used in the field or in laboratories to measure the characteristics of an electrical circuit, or in test, control and development work.
Technologies
Analog versions use moving coil galvanometers. The needle indicator is sensitive to slow variations. They require no independent power source to measure voltage and current, deriving energy from the measured circuit.

Digital models feature electronics capable of precise measurements. They also can test continuity, capacitance and inductance, diodes and transistors, frequency, voltage peaks, and sometimes feature a voltage presence test light. Such models can perform true root mean square (TRMS) voltage measurement, a calculated value.

Some multimeters feature clamp-on ammeters for non-contact measurement. Others have pen probes to facilitate measurements in electrical control cabinets. Scale selection can be manual or automatic, the latter to avoid error.
How to choose
Consider the unit's precision, range of measurements, protection systems and complementary functions.