How to choose this product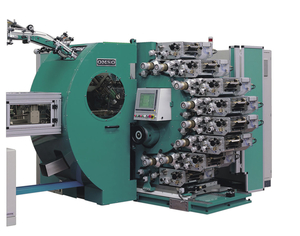 An offset printer uses an engraved, flexible aluminum plate wrapped around a cylinder. Non-printing areas are moistened by water rollers, while the dry zones are inked. The ink is carried to the surface to be printed by a rubber blanket roller.
Applications
Offset rotary presses are widely used to print newspapers. Industrial uses include the printing of packaging, cardboard boxes and paper bags. Many machines are multifunction. Flexography is used to print corrugated cardboard and polyethylene. UV drying allows the integrated varnishing of magazine covers and printing on plastic film, metalized paper or other non-porous surfaces.
Technologies
Presses use one or several stages printing in four colors, six for the addition of a pantone color and a varnish. Two-sided printing is also possible. There are both web- and sheet-fed presses.

Waterless techniques eliminate the moistening rollers by covering the non-print zones with silicone. Rapid UV drying requires the use of inks polymerized by ultraviolet light. Flexography uses a flexible relief plate. Its preparation requires sophisticated material: printing frames, engravers and dryers.
How to choose
Choice will depend on range of printing formats, material to be printed, number of colors or varnishes and printing speed.