How to choose this product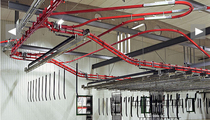 Overhead conveyors operate elevated above machinery and personnel or attached to the ceiling to transport materials or products from one point to another. Automatic or manual, they can function on a single or double track, depending on the application. Often in modular sections, such conveyors often constitute elaborate systems in sectors including automotive, metal finishing and distribution.
Applications
These conveying systems are widely used in many industries for the transport of goods. Examples of these applications include automotive parts, household linens, paint finishing and warehousing. These conveyors also can be used as accumulation conveyors.
Technologies
Hanging from a single or double track, products can be transported at a given height. Different sections can be operated manually, by gravity or powered by external motors.
How to choose
The selection of a conveying system is based on the application, cost, floor layout and required flow rate.