How to choose this product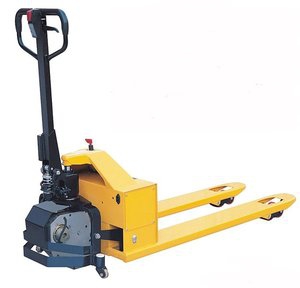 Pallet trucks are used to lift and transport pallets (loaded or empty) from one area to another in industrial settings. The forks, supported by the two front wheels, are raised hydraulically to lift the pallet. The rear steering wheels allow the truck to be moved in any direction. Both manual and electric versions are available.
Applications
Efficient vehicle movement and pallet transport require a relatively smooth, flat surface.
Technologies
The pallet trucks may be manual or battery-powered. The wheels beneath the front of support them when they are being raised. The two rear wheels are used to steer the truck. Fork length and width vary with model.
How to choose
Frequency of use and pallet transport distance should be taken into consideration when choosing between manual and electric pallet trucks.