How to choose this product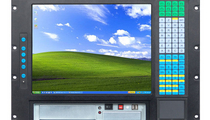 A panel PC is a computer designed for use in industrial settings.
Applications
These devices are human-machine interfaces for production control in all industrial sectors, including agribusiness, chemical plants and automobile assembly lines. They also are found in medicine, home automation and the hotel industry.
Technologies
Such computers are hardened for reliable operation in harsh environments. They are designed to be dust-tight and to withstand wide temperature variations, splashes (IP65), vibrations, shocks and mechanical hazards through use of a reinforced screen. Some can operate in extreme cold or in hot, humid environments. Their ultra-luminous screen can be read in full sun. They are more durable than standard machines.

There are many different mounting possibilities and all the typical PC options. Some have a capacitive, resistive or SAW touchscreen, while certain models have no fan. They have the usual USB, Ethernet, WiFi and serial ports. Some offer fieldbus ports, such as CANbus, or power line communications (PLC).