The Online Industrial Exhibition
{{#pushedProductsPlacement4.length}} {{#each pushedProductsPlacement4}}

{{#if company.requestButtonsVisibility.requestButtonQuestion == "ACTIVE"}}
{{elseif company.requestButtonsVisibility.requestButtonWhereToBuy == "ACTIVE"}}
{{/if}}
{{product.productLabel}}
{{product.model}}
{{#each product.specData:i}} {{name}}: {{value}} {{#i!=(product.specData.length-1)}}
{{/end}} {{/each}}
{{{product.idpText}}}
{{#if product.newProduct}} {{/if}} {{#if product.hasVideo}} {{/if}}
{{/each}} {{/pushedProductsPlacement4.length}}
{{#pushedProductsPlacement5.length}} {{#each pushedProductsPlacement5}}

{{#if company.requestButtonsVisibility.requestButtonQuestion == "ACTIVE"}}
{{elseif company.requestButtonsVisibility.requestButtonWhereToBuy == "ACTIVE"}}
{{/if}}
{{product.productLabel}}
{{product.model}}
{{#each product.specData:i}} {{name}}: {{value}} {{#i!=(product.specData.length-1)}}
{{/end}} {{/each}}
{{{product.idpText}}}
{{#if product.newProduct}} {{/if}} {{#if product.hasVideo}} {{/if}}
{{/each}} {{/pushedProductsPlacement5.length}}

particle classifier
Gyrotor Air Classifier
Filtration size: 500 µm
Gyrotors, a rotating vane air classifier, separate dry solid particles by size. They are designed for any separation where the fines are 500 microns (35 mesh) of finer. Applicable industries:Mineral Processing Features Variable ...
See the other products
Metso Corporation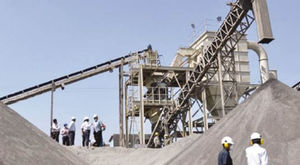 cyclone separator
Cyclonic Air Classifier (High Efficiency Cyclones
Width: 2.1 m
Filtration size: 5 µm - 10 µm
Flow rate: 0.5 m³/s - 50 m³/s
These high efficiency cyclonic air classifiers take advantage of the principle that particles of different sizes, shapes, or specific gravities can be separated through the use of an upward flow of air ...
See the other products
Metso Corporation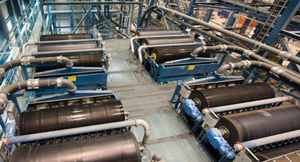 magnetic drum separator
LIMS Wet Drum
Width: 1,771 mm - 4,818 mm
Filtration size: 74 µm - 8,000 µm
Low intensity magnetic separators, LIMS, are designed to recover ferromagnetic materials. The separators are available in designs and sizes to provide solutions for all applications. The heart of each ...
See the other products
Metso Corporation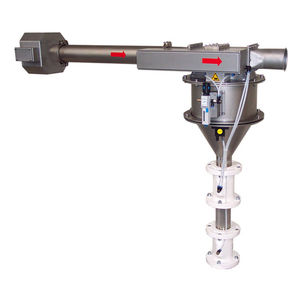 pneumatic separator
P-TRON GM V2
P-TRON 07 GM V2 metal separators are useful in suction and pressure conveying pipes. The device complies with the highest standards of hygiene. The unique separation function enables products are conveyed in powder ...

electromagnetic separator
VOG
The high degree of selectivity achieved by this range of Dry Disc Magnetic Separators produces exceptionally clean magnetics fractions with high magnetics recovery. Features: Wide range of models and sizes to cater ...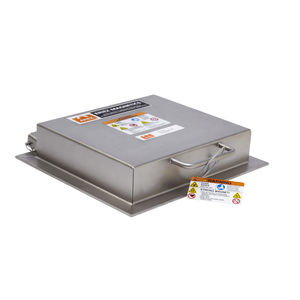 Eriez Permanent Plate Magnets provide powerful, dependable magnetic protection against hazardous fine iron and tramp iron contamination in processing lines. Designed for positioning in chutes, spouts, ducts, pipes, or suspended over conveyor ...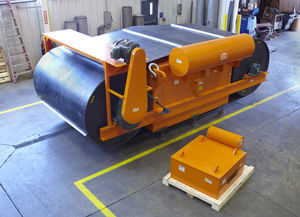 electro-magnetic separator
SE-7000 series
The Suspended Electromagnet provides tramp metal collection from conveyed materials. The electromagnet is typically mounted or suspended over a conveyor belt to remove large pieces of tramp metal that represent a hazard to downstream ...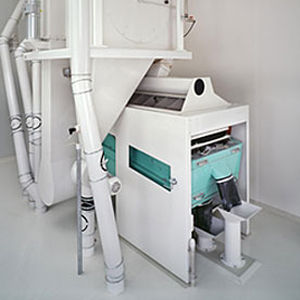 Combinator The Combinator type MTCD is employed in both grain milling and specialty milling for the classification of grain into high-density (heavy) and mixed fractions. The machine simul-taneously functions as a destoner. Benefits: - ...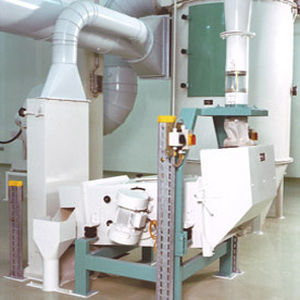 Separator Classifier MTRA The separator classifier MTRA is used primarily for grain cleaning in the milling of wheat, durum wheat, corn (maize), rye, soybeans, oats, ...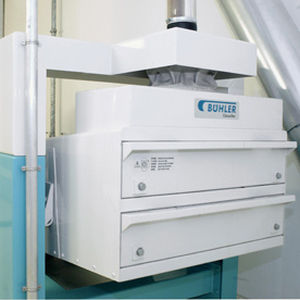 Separator Classifier MTRB Bühler's separator classifier MTRB is used primarily for grain cleaning in flour mills and grain storage facilities (silos). It removes coarse ...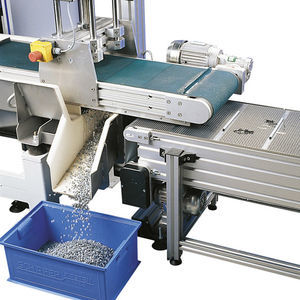 overband magnetic separator
MSR
... system designed to reliably separate ferromagnetic workpieces from the abrasive media.Unlike conventional magnetic barrel separators, the MSR system has a much larger operating range and therefore reliably separates even ...

centrifugal classifier
CFS
Filtration size: 10 µm - 250 µm
... -fine classifier CFS can. This device's yielding capability are accomplished by paying little attention to whether the user is differentiating coarse portions (coarseness) or grouping fines (dedusting). The boundless ...

centrifugal classifier
CFS/HD-S
Width: 380 mm - 2,500 mm
Filtration size: 2.6 µm - 60 µm
... CFS/HD-S by Netzsch Grinding & Dispersing is an Air separator which is designed for ultra-fine and sharp separation. This tool can be used with conjunction in grinding plants. The unit uses a classifier ...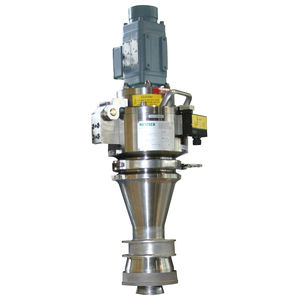 centrifugal classifier
CFS 5, CFS 8
Filtration size: 20 µm - 150 µm
... results and sharp partition for coarse grain division and also item dedusting. The CFS 5 and CFS 8 are successful lab classifiers for the dry detachment of little measures of powders that can't be handled by traditional ...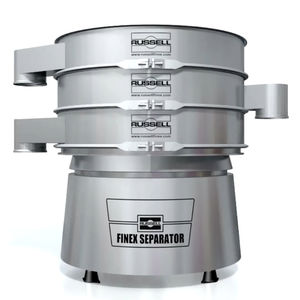 vibrating separator
Finex Separator
This vibratory Finex Separator is ideal for accurate grading, scalping or sizing wet and dry materials up to five fractions in one operation with advanced separation technology enabling improved capacity, upgradability, ...

The wide range of ANDRITZ two-phase and three-phase separators includes both solid-bowl and self-cleaning units. The use of high quality materials allows the separators to be used in many different applications.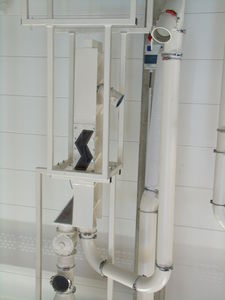 The Neue Herbold ZS series cascade sifter is utilized for the separation of various types of materials for example; materials that must be separated for evvironmental reasons, separation for better quality or separation for further ...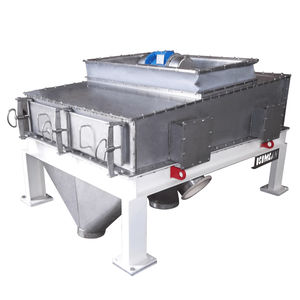 ... used to separate fine products according to particle size. They separate one or more groups with the defined particle distribution, and classify them if there are other properties associated with the ...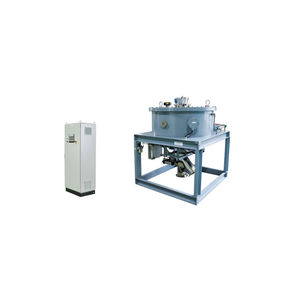 electro-magnetic separator
MES-D series
Features: 1、Lower power consumption, well distributed and strong magnetism, high stability and excellent performance of de-ferrous. 2、Remove magnetic substances with size of micron by magnetized screen. 3、The vibrators with symmetrical ...
See the other products
NINGBO SOUWEST MAGNETECH DEVELOPMENT CO.,LTD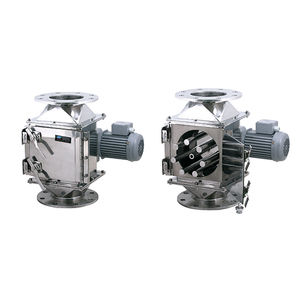 magnetic grate separator
MRG series
Features: 1.Detachable designing for easy cleaning and installing. 2.The maximum magnetic strength can reach 13000GS and the standard working temperature is lower than 80℃. The maximum working temperature can reach 350℃ as required. 3.The ...
See the other products
NINGBO SOUWEST MAGNETECH DEVELOPMENT CO.,LTD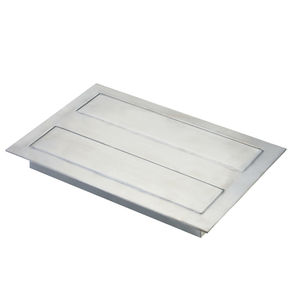 magnetic plate separator
SWFMP-EP, SWNMP-EP series
Product Description: Exposed Pole (EP) Plate Magnets are designed for removing tramp metals from the low volume materials flow. They will be installed below the materials flow in the process line. Features: 1.Plate with different magnetic ...
See the other products
NINGBO SOUWEST MAGNETECH DEVELOPMENT CO.,LTD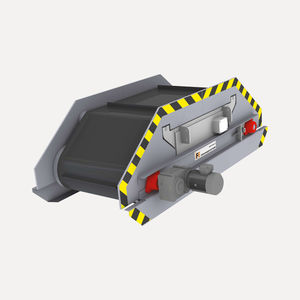 Width: 650 mm - 2,500 mm
The overband electro-magnetic separator is integrated with a processing technology that is capable of quickly responding to modern requirements. This machine is able to provide customers new materials that allow continual ...
See the other products
IFE Aufbereitungstechnik GmbH

Width: 500 mm - 2,000 mm
The overband permanent magnetic separator is an ideal solution in numerous material handling applications. It is constructed with the aid of broad and optimum technical solutions that enables specific separation of numerous ...
See the other products
IFE Aufbereitungstechnik GmbH

permanent magnet separator
Width: 500 mm - 2,500 mm
IFE eddy current separators are used to separate non-ferrous metals (aluminium, copper, brass, etc.) from bulk material of all kinds. The special model IFE ENOS is used to: removal of non-ferrous particles ...
See the other products
IFE Aufbereitungstechnik GmbH

electromagnetic separator
RCDD Series
Width: 400 mm - 2,200 mm
... for removing the magnetic iron particles from the thicker bed of the material and material under bigger granularity such as ores, coals, hard cokes, limestone and etc. Product features 1. Used to remove iron particles ...
See the other products
Yueyang Dalishen Electromagnetic Machinery Co., Ltd.

magnetic drum separator
CT Series
... materials by wet concentration. Three types of separators (according to the directions of rotating drum and pulp flow) 1. Counter Rotation (CTB) (Particle size: About 2mm) 2. Concurrent (CTS) (Particle ...
See the other products
Yueyang Dalishen Electromagnetic Machinery Co., Ltd.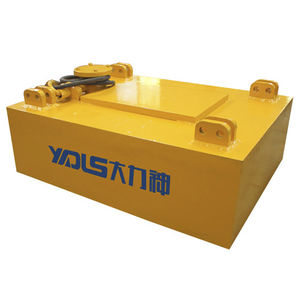 electromagnetic separator
RCDY Series
This product RCDY Series is designed for long term operating shift provided with adjustable hook in its suspending system to adjust erection and installation height conveniently. It produces almost the same magnetic field along its width ...
See the other products
Yueyang Dalishen Electromagnetic Machinery Co., Ltd.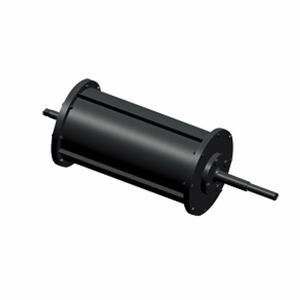 magnetic drum separator
304 / 316L
Half Magnetic Drum is mainly used to remove or sort ferrous fines, tramp iron and other ferro magnetic materials from bulk dry material flow such as iron ore, grain, sand, gravel, plastics, wood, waste, cullet, etc. Features: 1. Continuous ...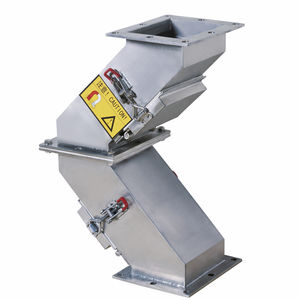 ... into the magnetic field and prevent building up and bridging, and also break up clumps of product to improve efficiency of separator. 4. Simple structure, easy cleaning and assembling. 5. Inlet, outlet or other ...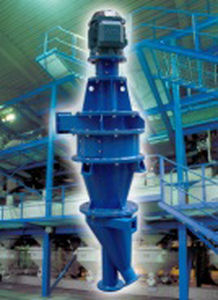 air classifier
ACX series
Filtration size: 2 µm - 250 µm
Flow rate: 800 m³/h - 45,000 m³/h
ACX classifiers belong to the main group of products offered by Comex. They have been available on the market since 1993. The number of ACX application has been carried out mostly in mineral industry. Many applications ...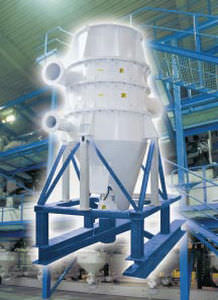 air classifier
UCX Series
Filtration size: 2 µm - 300 µm
Flow rate: 800 m³/h - 62,000 m³/h
UCX classifiers represent a group of products for ultra fine applications. This classifier series was newly developed for demanding applications where fine particles are to be produced ...

disc stack separator
MACFUGE 325
Filtration size: 1 µm - 500 µm
Flow rate: 10 m³/h
Macfuge separator liquid / liquid / solid or liquid / solid clarifier Self cleaning machine Centripetal pumps for the extraction of the separated phases integrated in the centrifuge Gear drive Control ...

... contaminants from raw materials or enrichment of ferromagnetic materials. The stainless steel casing separates the ferromagnetic particles into the collection container. Custom-made and fully tailored to your manufacturing ...
See the other products
MDR d.o.o.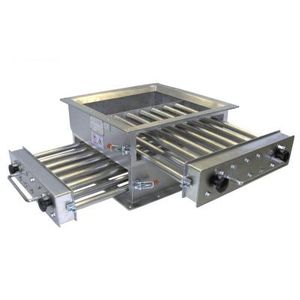 magnetic grate separator
MR series
Removes extremely small, fine ferromagnetic particles from powders or granulates. Installation in vertical pipes or in places where the material is in free fall. Possibility of adjusting the capacity to the type of ...
See the other products
MDR d.o.o.

... through central part of the magnetic separator. Metal impurities, caught in the middle part of the separator, are eliminated automatically at given intervals. They are eliminated in the left or right ...
See the other products
MDR d.o.o.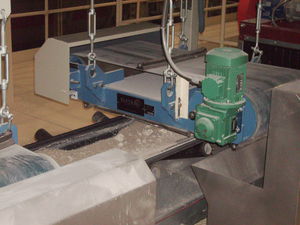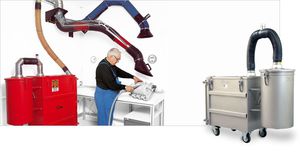 Flow rate: 130 m³/h - 350 m³/h
NA 250 Wet separators are used for separating dust and dust particles of all types. The particles are channelled into liquid media, where they are safely trapped. Our wet separators ...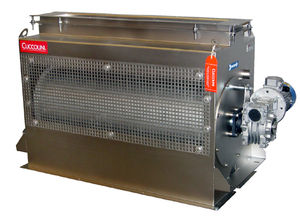 magnetic roller separator
CER 600-900-1200
CER 600-900-1200 is a roller iron remover capable of automatic cleaning for powders and granulated materials. The tool ensures simple operation and installation. This iron remover unit is composed of permanent magnets in Neodumium. The ...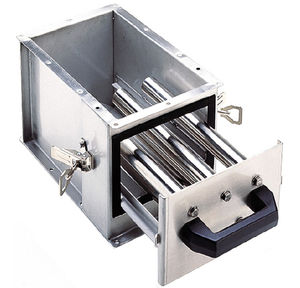 magnetic grate separator
GLM 1/300
GLM 1/300 Filter is manufactured out of AISI 304-grade stainless steel materials. This system features a set of magnetic bars (5 in total) designed out of Neodymium materials. It is generally used for applications that involve the treatment ...

magnetic plate separator
DECTRON 500-600-800-1000
The Dectron series is a magnetic plate separator which comes with an automatic cleaner designed for powders and raw materials. The unit can be installed located at the feeding belt of mills for efficiency of the equipment. ...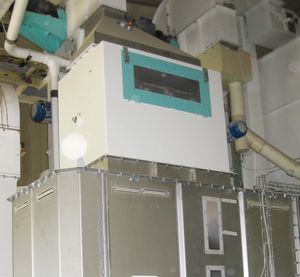 magnetic drum separator
BDZA
The DFR series features a Magnetic Drum Separator which is specifically designed for industrial purposes. The DFR is provided with a drum covered with dozens of compact magnets. These magnets are designed for eliminating ...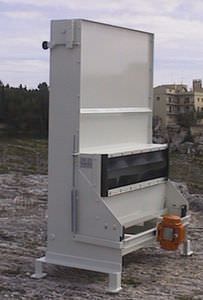 The vertical-aspirator mod. TV is used principally in the flour milling for the selection of low density material from granular products, such as all cereals, soya, cocoa beans, pulses, etc…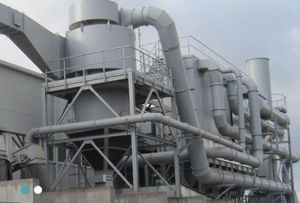 ... considerable quantities of fine particles (dust) accumulate which must be reliably separated and which then represent an important economic recyclable material for our customers. With the high-performance cyclone ...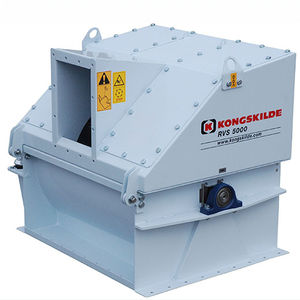 rotary separator
KS series
The KS separator is developed only for the separation of cardboard and paper from the conveying air in both positive and negative pressure systems.

centrifugal separator
KIA series
The Kongskilde KIA12, KIA20 and KIA60 Aspirator are designed to separate light impurities or dust from re-processed material or granulated plastic. The aspirator is suitable for applications where the presence of dust or label fragments ...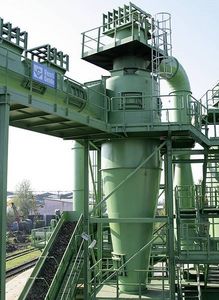 Cyclone separators Today, we predominantly use cyclone separators when dealing with large amounts of material, as a primary separator for exhaust ...

... fractions are ideally prepared for burning. These separators are characterised by the good separation that can be achieved even with large flow rates. New developments such as the large particle separator ...

Automatic separation valve Automatic separation of unwanted product elements during grinding and portioning Can be used with all VEMAG grinders Production of high-quality products Increase production reliability Range of raw materials Flexible ...