How to choose this product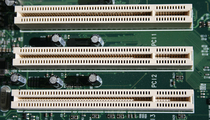 The PCI (peripheral component interconnect) is a type of computer bus used to link various hardware components. It can be a printed circuit on the motherboard or an expansion card plugged into a slot.
Applications
PCIs form the basis of some of the most common types of industrial bus, such as CompactPCI. It is found in numerous industrial computers for linking network cards, modems or EA cards.
How to choose
Choice of PCI component or expansion card will depend on the requirements of the computer architecture or nature of the industrial computer in question.
Advantages
- Proven format and standard