How to choose this product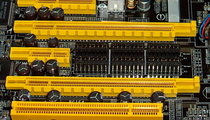 The PCI Express (PCIe) expansion bus standard is derived from the PCI format. It enables connection of expansion cards to a computer motherboard. Compared to the older PCI, PCI-X and AGP standards, it is faster, more compact and generally yields better results.
Applications
PCIe cards and components are widely used in laboratory automation, scientific research, on-board OEM applications, etc.
Advantages
- Faster than former bus standards