The Online Industrial Exhibition

Power: 0.5 W - 19 W
Rotational speed: 3,000 rpm - 30,000 rpm
Diameter: 27.7 mm
FORM: ROUND TYPE DIAMETER: 27,7 mm LENGTH: 32,50 mm VOLTAGE: 1,20 - 30,00 V NO LOAD SPEED: 3.000 - 30.000 rpm STALL TORQUE: 50 - 600 gr-cm STALL CURRENT: 0,30 - 33,00 A CUSTOMIZATIONS: shaft, cables, ...
See the other products
COMMEX srl

motor with speed controller
YCT series
Torque: 3.6 Nm - 564 Nm
Power: 0.55 kW - 90 kW
Rotational speed: 125 rpm - 1,340 rpm
YCT Series electromagnetism speed regulating motor. One of the main products derived form Y series motor, consists of electromagnetic slip clutch . Speed meter generator and pulling motor ...

Power: 0.05 ch - 75 ch
Boston Gear offers a complete selection of AC motors for use with enclosed gear drives or as stand alone units. Because Boston Gear's AC motors are general purpose, they ...
See the other products
Boston Gear

direct current motor
DC1500
Torque: 1.8 Nm
Power: 750 W
Brushless direct current motor in compact design for flange mounting with integrated incremental encoder. Usable for medium heavy and for heavy sewing machines.

Power: 0 W
"High speed motors", "Test bench motors", "Smooth bodied motors" are only a few examples of solutions for specific customer requirements.. For many fields of industry and many applications ...

DC motor
5.5 - 10 kW, 11 000 - 15 000 rpm | TYT083 series
Power: 5.5 kW - 10 kW
Rotational speed: 15,000 rpm
... Products for new energy automobile Application Electric vehicles motor Hybrid cars motor Power generation equipment motor Commun ications equipment motor ...
See the other products
SHENZHEN DONGMING MOTOR ELECTRIC CO., LTD.

See the other products
AEC S.r.l.

... qualitative and high performance brushless motors with a high number of poles, generally known as stepper motors, suitable for all types of use and fully compatible with their drives range. The advantages ...
See the other products
Ever Elettronica

Power: 180 W
Rotational speed: 15,000 rpm
Diameter: 43.5 mm
... developed at the beginning of the last century. Permanent magnet electric motors are powered exclusively with direct current: for this reason the name "DC motors" ...
See the other products
IME Industria Motori Elettrici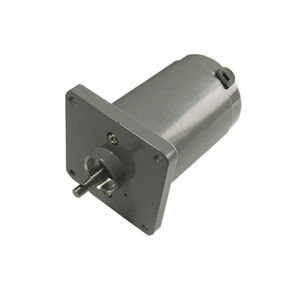 direct current motor
D723-20B0-YG2
Torque: 0.1078 Nm
Power: 23 W
Rotational speed: 2,000 rpm
· Application : Inputting pump of grease · Feature : Water proof type
See the other products
DAEHWA E/M CO.,LTD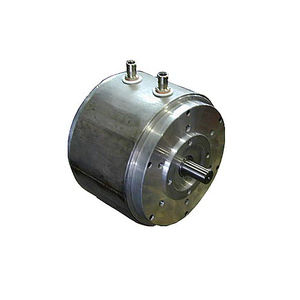 ... engineering approaches: application motor/generator coaxial with diesel engine and propeller; applications using motor for azimuthal POD. We have also developed an application in which the smallest ...
See the other products
ACM engineering

Torque: 14 Nm - 816 Nm
Power: 0.73 kW - 7.12 kW
Rotational speed: 400, 500, 250 rpm
... series of housed synchronous torque motors not only sets a new benchmark with regard to maximum drive system torque and stiffness, but they are also extremely compact. The KTY series is a useful alternative ...
See the other products
GEORGII KOBOLD

DC motor
B5685M-S0 series
Torque: 0.123 Nm - 0.7 Nm
Power: 30 W - 180 W
Rotational speed: 121 rpm - 700 rpm
B5685M Brushless DC Motor Specifications: CW & CCW, Signal function available, Locked rotor protection, Stepless speed regulation, Low noise, Low EMI, Long life 10000-30000hrs. Brushless DC ...
See the other products
PJM TEC

Power: 5 kW - 180 kW
The utilization of the item, Motors of machine instruments, is in applications, for example, primary drive of machine apparatuses or other such supplies.
See the other products
umeb

Torque: 2.15, 1.12 Nm
Power: 165 W - 950 W
Rotational speed: 1,570 rpm - 12,500 rpm
Selema DC Motors with permanent magnet excitation are fitted with flux concentrators and, therefore, can withstand very high demagnetizing current level. This feature ...

DC motor
AM-BL2040 Series
Torque: 0.005 Nm - 0.011 Nm
Power: 3.9 W - 8.9 W
Rotational speed: 9.7 rpm - 10,700 rpm
Assun Motor's AM-BL3660 Serial Brushless Motors are electronically commutated components that feature high levels of torque, power, and extensive speed ranges; they also showcase prolonged service lifespans. ...

Power: 20 W - 257 W
... heavy duty PMDC brush motors are designed for the most demanding applications. Size ranges from 1.57 inch to 7.87 inch. Voltage available is from 12 to 180 volts. Heavy duty Gearheads are available. Features Heavy Duty ...
See the other products
Telco

Our many years of comprehensive experience in developing and manufacturing hybrid stepper motors have resulted in an extensive range of standard and specialized models, which are also primarily manufactured at the production ...

Torque: 0.13 Nm - 0.37 Nm
Power: 20 W - 75 W
Rotational speed: 3,000, 15,000 rpm
... forms and dimensions; - Waterproof or open motors with different degrees of protection; - EMI suppression filters (standard in many motors); - Position, speed and shifting sensors such as encoders, can ...
See the other products
Dagu

Power: 0.1 kW - 0.8 kW
Diameter: 80 mm
APPLICATIONS Pump drive Winches Traction Marine applications FEATURES High specific output power Long brush life High ambient resistance DESIGN Excitation by high quality ferrite 4 or 6 pole permanent ...
See the other products
Letrika

Power: 5 kW - 1,500 kW
... cooling, available on request, allows to minimize the size of the SR motor, increasing even more the density of available torque to the shaft mechanical. The main innovation of the SR motor is constituted ...
See the other products
Sicme Motori

direct current motor
0.5 - 185 kW, IP 23 - IP 65
Power: 1 kW - 185 kW
Rotational speed: 1,000 rpm - 3,000 rpm
... replacement motors for all major motor manufacturers complete with the exact same dimensions and the required electrical parameters. These devices are suitable for use with extruders, turret trucks, ...
See the other products
Winkelmann Elektromotoren GmbH & Co. KG

Power: 120 W - 350 W
Rotational speed: 1,500 rpm - 4,000 rpm
AMT electrical motors are DC permanent magnet motors. These motors are characterized by an extremely high degree of efficiency (up to ...
See the other products
AMT Schmid GmbH & Co. KG

Features: Lightweight Low Aperture Blockage Wide Frequency Bandwidth High Efficiency Low Insertion Loss Low Axial Ratio Low Sidelobe Levels Superior Low Angle Tracking Variable Scanning Rates High Reliability

DC motor
max. ø 49 mm | M series
... size, lightweight and high-output torque. Superior running quietness. [USES] Feeding of and printing on small printer paper. Drive for all types of small equipment.