The Online Industrial Exhibition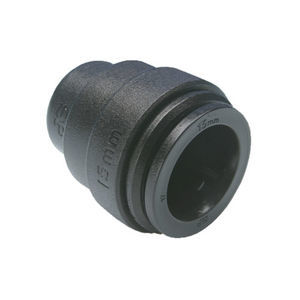 non-threaded end cap
PM46xxE series
Diameter: 12, 22, 15, 18 mm
Operating temperature: -20 °C - 70 °C
Push-fit technology Quick disconnection without the need for tools Easy to alter or extend a system No corrosion Reduced maintenance and installation times
See the other products
JOHN GUEST

non-threaded end cap
1167
Diameter: 26.9, 33.7, 42.4, 48.3 mm
Use: for end-capping. Material polyamide. Standard pack: 240 pieces, (cod. 630971 pack 12 pcs).
See the other products
BETT SISTEMI

threaded end cap
CL-xx-TTER-112 series
Diameter: 1.4 in
Threaded Tube Ends (Round) Supports, Rests & Feet Ideal for mounting a Leveling Foot into the end of a round tube (also available for square tubing). High-strength ribbed design presses into the tube ...
See the other products
CARR LANE MANUFACTURING CO.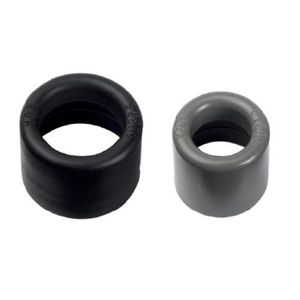 non-threaded end cap
EK series
Diameter: 7.8 mm - 45.8 mm
Operating temperature: -40 °C - 150 °C
The type EK end cap is made of specially modified polyamide and mounted on the ends of the cable protection conduits. The end cap is designed as an edge ...

END CAPS WITH VENTILATION For closing pipe ends. With ventilation.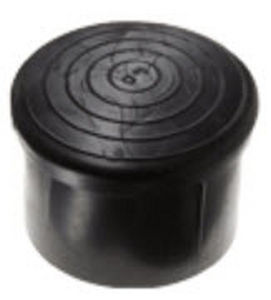 non-threaded end cap
045 series
Diameter: 8 mm - 40 mm
This range of Skiffy plastic parts are crafted from either PVC or polyethylene (Ld-PE) and are available in black color only. They are extremely strong but yet provide superb flexibility to fit inside tube panels. Furthermore. ...
See the other products
Skiffy

threaded end cap
SCAP-PT series
Diameter: 9 mm - 20 mm
Combine SCAP-PT Cover Caps and SNCPS Socket Head Cap Screws for Cover Caps. The PTFE (Teflon) cover protects the screw head from corrosion caused by chemicals. PTFE is a plastic ...

Operating temperature: -29 °C - 110 °C
For use with ConveyXonic Poly-V belts. Also called multi-rib, V-ribbed, Micro-V® inserts. Fits 1.9" x 16 gauge conveyor roller tubes (press fit). Also available for 50mm conveyor roller tubes. Nearly invisible parting ...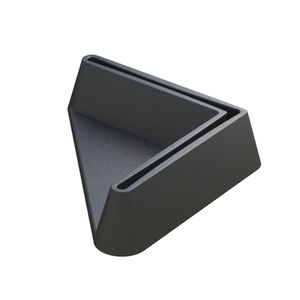 It is a metallic profile protector with a 90º angle. It fits at the end and avoids bumps and any other surface damage. It also can be used as a corner protection if they are fixed together.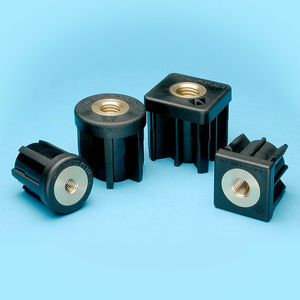 Threaded Tube Ends S&W threaded tube ends are the easiest and most cost-effective way to attach mounts and glides to the tubes and pipes commonly used to construct frames, conveyor bases and industrial ...

non-threaded end cap
DFP CP2
Diameter: 16 mm - 110 mm
The PP End Cap-S/W is a plastic cap which features a diameter size that ranges from 16 to 110 mm. This plastic cap device is manufactured ...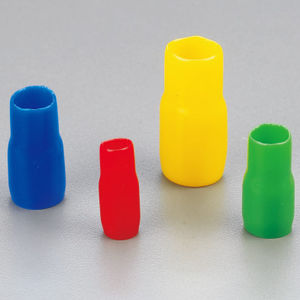 non-threaded end cap
V Series
Material: Made from PVC. Usage: devide the colorful cable in machine, used to various terminals as soft feature, easy to take off. Character: clearly color, shine, soft, insulated. Color: red white blue yellow .black green, brown available ...

non-threaded end cap
IPCT series

Diameter: 63 mm - 200 mm
End closure cap with holes End closure caps are used as the end of service pipes. End closure caps are available ...
See the other products
Salling Plast

non-threaded end cap
700 series
700 Series End Cap, 3cc, Blue, (QTY=50), molded in polypropylene material. Design to seal inlet side of syringe barrel to ensure no contaminants come in contact with material during storage and shipment.

round end cap
GREMSHAPES® GCAPS
Operating temperature: -40 °C - 110 °C
GREMSHAPES® GCAPS is a hot melt lined polyolefin heat shrink moulded end cap. GREMSHAPES® GCAPS offers a superior resistance to oxidation, UV radiation and excellent encapsulation properties. GREMSHAPES® ...
See the other products
GREMTEK

threaded end cap
3006 series
Diameter: 20 mm - 315 mm
Electrofusion fittings by Unidelta are used for connecting polyethylene pipes for conveying gas up to a pressure of 10 bar (There may be different regulations relating to use in the UK, please check prior to instillation) or drinking ...

Diameter: 32 mm - 63 mm
The Cap Monofilar Electrofusion Fitting and Transition from FGS Brasil comes in 4 models. These models are available with 4 different measurements such as 32, 40, 50, and 63 mm. They are also available with 4 weights ...

non-threaded end cap
Fafnir®
Diameter: 20 mm - 50 mm
Fafnir® Safety End Caps Easy-to-install safety end caps protect exposed rotating shafts, reducing hazards around many types of equipment. The patent-pending design meets ...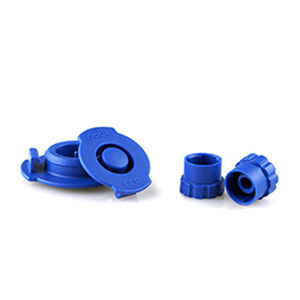 Optimum® tip caps and end caps provide an airtight seal that allow you to pre-fill syringe barrels to save time or seal partially-used syringes between shifts to reduce waste. Tip ...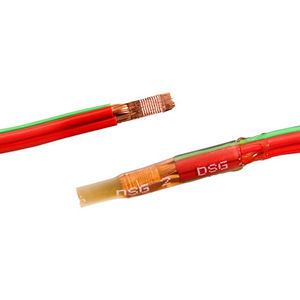 heat-shrinkable end cap
DERAY®–SpliceMelt Cap series
Diameter: 1.4 mm - 18 mm
Operating temperature: -40 °C - 125 °C
​Adhesive lined insulating caps Adhesive lined, heat shrink insulating caps specifically designed to insulate, seal and protect end or stub splices in wiring harnesses and electronic ...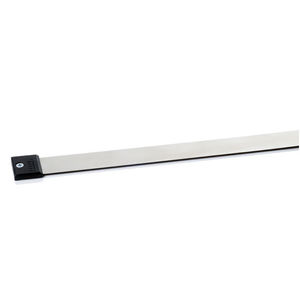 - Optimale protection against the peel off of the magnetic tape / cover tape - Reduce the hazard of injury by sharp edges

non-threaded end cap
THD series
Diameter: 100, 120, 125 mm
See the other products
Brugg Kabel AG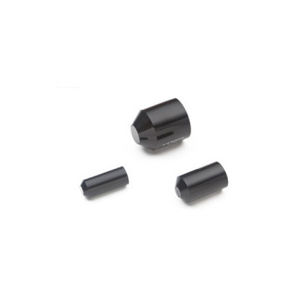 cylindrical end cap
ELCOCAP M10
Diameter: 15 mm - 120 mm
Operating temperature: -50 °C - 100 °C
Heat Shrink Cable end-cap Crosslinked polyolefin cable end cap manufactured with an inner layer of hot-melt adhesive. Suitable for sealing power or telecomunication ...