The Online Industrial Exhibition

Inner diameter: 9 mm - 10.3 mm
Outer diameter: 14.8 mm - 16.2 mm
Pressure: 1,500,000 Pa
Scott Safety provide airline hoses to enable you to get air to where you need it. Available in cost efective PVC or the higher speced anti-static hose and with a range of lengths there is a hose ...

Inner diameter: 0.25 in - 0.375 in
Non-conductive hose For applications requiring electrical isolation by the hose, non-conductive hose has a leakage factor of less than 50 microamperes, considered a safe level of conductivity ...

hydraulic hose
76030xx series
Inner diameter: 13 mm - 55 mm
Outer diameter: 16 mm - 63 mm
Pressure: 10 bar - 16 bar
PVC hoses with internal reinforcement, • smooth finished. Grey colour. • Max. working pressure: 5 bar. • Following the european Ral for pressure • pipes Nr. 7011. • Supplied in a 50 m. long roll.
See the other products
Coraplax

fuel oil hose
FLEXOR TWB1
Inner diameter: 5 mm - 13 mm
Pressure: 11,000,000 Pa
FLEXOR TWB1 ONE WIRE BRAID Tube: polyester. Reinforcement: one high tensile steel braid. Cover: abrasion, ozone and hydrocarbon resistant polyurethane, non pin-pricked. Application: high pressure hydraulic lines, fuel oil, antifreeze ...
See the other products
Alfagomma France

gasoline hose
PROTAPE® PUR 335 MHF
Inner diameter: 50 mm - 610 mm
Outer diameter: 55 mm - 615 mm
Pressure: 0.045 bar - 0.58 bar
The PROTAPE® PUR 335 MHF FLAT is a highly flexible hose and it has optimized flow properties. It has high tensile strength and tear resistant. Tthe polyurethane complies with the FDA 21 CFR 177.2600 ...
See the other products
NORRES Schlauchtechnik GmbH

TV105-12MY Non-Shrink oil resistant flexible clear tubing on reel • Provides insulation and protection for lead wires wire harness assemblies soldered joints and components in electrical and electronic equipment ...
See the other products
PANDUIT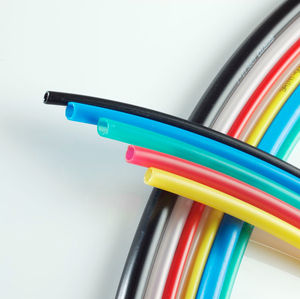 The suitable tube or hose for all conceivable requirements in PA, PE, PVDF, PTFE, Stainless steel PTFE hoses with stainless steel braid in various dimensions Characteristics, ...
See the other products
SERTO

Tube : THERMOPLASTIC POLYESTER Reinforcement : ONE HIGH TENSILE STEEL BRAID (1B) Cover : ABRASION, OZONE AND HYDROCARBON RESISTANT THERMOPLASTIC POLYURETHANE-PIN PRICKED Application : HIGH PRESSURE HYDRAULIC LINES, ...
See the other products
ALFAGOMMA

... gases either under positive pressure or vacuum. Metal hoses are used to absorb and compensate for static misalignment, dynamic motion, thermal expansion and vibration within pipe systems. Corrugated ...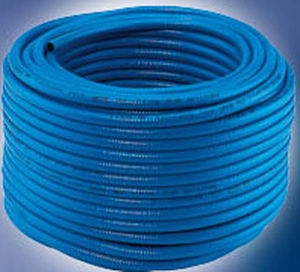 hydraulic hose
TEMA 100 series
Pressure: 630 bar
Temperature: -40 °C - 100 °C
Technical Description The new generation of highly flexible RECTUS hoses consists of a textile-reinforced, 3-ply PVC hose with a smooth inner tube, polyester thread insert and abrasion-proof ...

Inner diameter: 0.125 in - 2 in
Pressure: 345 bar
Temperature: -55 °C - 232 °C
... Stratoflex Products Division designs and manufactures PTFE hose assemblies for aerospace and derivative markets. Our PTFE hose products are available for low-, medium-, and high-pressure applications. Hose ...

For the protection of medical components, needles and catheters is often chosen for materials such as LDPE, HDPE, PP, PA, PUR or Pebax. This range of tubing can be produced in cleanroom Class 8 or 7 and assembled, packed and cleaned in ...
See the other products
Polyfluor Plastics bv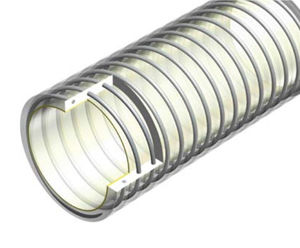 discharge hose
FLEXACIER 05 PU
Inner diameter: 20 mm - 50 mm
Outer diameter: 28 mm - 61 mm
Pressure: 5, 8, 6 bar
Structure : Flexible hose with polyester polyurethane inner layer, and soft PVC wall reinforced with steel galvanized helix. Applications : Designed for medium duty suction and delivery of abrasive materials ...
See the other products
Gap Plastomere

Inner diameter: 4.8 mm - 9.7 mm
Outer diameter: 10 mm - 16 mm
Pressure: 175 bar - 210 bar
... MISSION • INCREASED SAFETY • ENVIRONMENTAL PROTECTION • PRODUCT RESPONSABILITY • ENERGY CONSUMPTION REDUCTION • LEAKAGE-FREE HOSE ASSEMBLIES • OIL-LESS ASSEMBLIES • FULL SYSTEM CONTROL IN CASE OF HIGH PRESSURES, VIBRATIONS ...
See the other products
CAST spa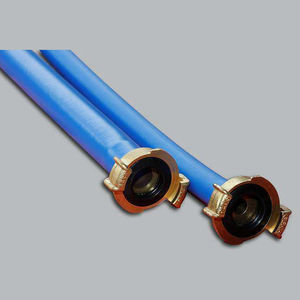 potable water hose
UW-PE-GEW
Inner diameter: 12.8 mm - 25.4 mm
Pressure: 9 bar - 40 bar
Temperature: -20 °C - 65 °C
Drinking water hoses For the limited transport of drinking water in accordance to DVGW W549 270 KTWA cold and hot water Materials LD-PE = Low-Density-Polyethylen PA = Polyamid TPU = Thermoplastic Polyurethan
See the other products
Uniwell Rohrsysteme

Applications: for pneumatic lines, pressure tube for conveying water, oil and air Material: Nylon, PU, PE, PTFE, FEP Properties: freely stretch and compression * Custom-specific lengths and specification
See the other products
HUANYU HOSE CO., LTD.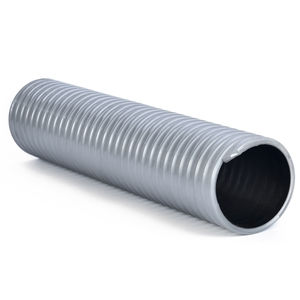 discharge hose
S-114 Tricapa
Inner diameter: 30 mm - 202 mm
Outer diameter: 40 mm - 217 mm
Pressure: 0.78 bar - 2.94 bar
Hose composed of flexible PVC, Nitrile Rubber (NBR) a rigid PVC helix and an interior layer of Polyurethane to improve the abrasion resistance. Silver colour. Smooth interior and corrugated exterior. ...
See the other products
KANAFLEX SPAIN

Inner diameter: 200 mm
Pressure: 1,000,000 Pa
Application PLT/Z Explosionproof hose has been developed for gas conveying in mining industry of non-methane and methane zones, in methane explosion risk spaces of degree "a", "b", "c". The fabric meets the requirements ...
See the other products
KLIMAWENT

paint hose
VE5P-PA series
Inner diameter: 4.8 mm - 13 mm
Outer diameter: 8 mm - 17.7 mm
Pressure: 85 bar
CONSTANT PRESSURE AT 85 BAR - SAFETY RATIO 1:4 CONSTANT PRESSURE AT 115 BAR - SAFETY RATIO 1:3 COVERING IN POLYAMIDE CREATED FOR THE MEDIUM PRESSURE CONDUCTION OF POLYOLS, PAINTS AND COMPATIBLE GASES
See the other products
ZEC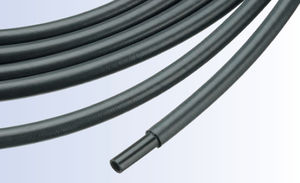 Inner diameter: 2.5, 4, 6, 7.5, 9 mm
Outer diameter: 4, 6, 8, 10, 12 mm
Pressure: 38, 33, 24, 19 bar
See the other products
SENGA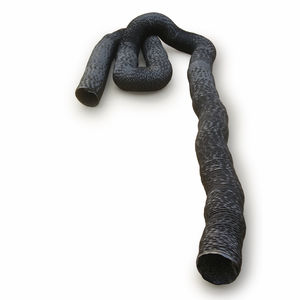 exhaust gas hose
T19 series
Inner diameter: 50 mm - 300 mm
Pressure: 0.03 bar - 0.36 bar
Temperature: 0 °C - 90 °C
Flexible hose in blended polyester fabric with double PVC coating for extraction of gas and fumes at temperatures of up to 90°C. The use indicated for wall or ceiling-mounted installations (not produced ...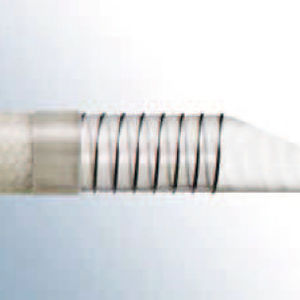 foodstuffs hose
Smooth Flow® S/B9
Inner diameter: 11.5 mm - 48.5 mm
Outer diameter: 21.6 mm - 61.2 mm
Pressure: 10 bar
... steel helix and a PVDF braid. The hose has exceptionally good vacuum and kink resistance properties for extreme performance. Smooth-Flow® should be specified for applications where Ultra hygienic non-convoluted hose ...
See the other products
XTRAFLEX NV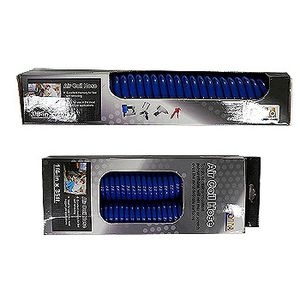 Inner diameter: 0.25 in - 0.375 in
Pressure: 150 psi - 450 psi
Fitted with fistting and bend restricter W.P.:150PSI B.P.:450PSI TPU material
See the other products
Jieh-Ming Plastics Mfg. Co., Ltd.

Inner diameter: 10 mm - 51 mm
Temperature: -10 °C - 60 °C
... Features: Inside smooth full plastic hose, very light and flexible, rigid-PVC-reinforcement embedded to the soft-PVC-bore. Applications: Full plastic hose for transport ...
See the other products
VACUFLEX GmbH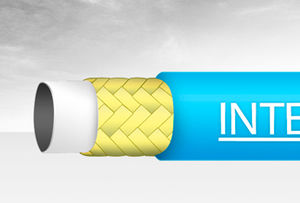 water hose
Highflex series
Inner diameter: 12.7 mm - 31.5 mm
Outer diameter: 20.6 mm - 45.7 mm
Pressure: 250, 275 bar
... Specially designed to meet minimum bend radius Optimum cut and wear resistance Resistant to microbiological degradation Bonded tube and cover Lightweight compared to conventional rubber alternatives Increased lifetime Available ...
See the other products
INTERSEWER UG (haftungsbeschränkt)