The Online Industrial Exhibition
{{#pushedProductsPlacement4.length}} {{#each pushedProductsPlacement4}}

{{product.productLabel}}
{{product.model}}
{{#each product.specData:i}} {{name}}: {{value}} {{#i!=(product.specData.length-1)}}
{{/end}} {{/each}}
{{{product.idpText}}}
{{#if company.requestButtonsVisibility.requestButtonQuestion == "ACTIVE"}}
{{elseif company.requestButtonsVisibility.requestButtonWhereToBuy == "ACTIVE"}}
{{/if}}
{{#if product.newProduct}} {{/if}} {{#if product.hasVideo}} {{/if}}
{{/each}} {{/pushedProductsPlacement4.length}}
{{#pushedProductsPlacement5.length}} {{#each pushedProductsPlacement5}}

{{product.productLabel}}
{{product.model}}
{{#each product.specData:i}} {{name}}: {{value}} {{#i!=(product.specData.length-1)}}
{{/end}} {{/each}}
{{{product.idpText}}}
{{#if company.requestButtonsVisibility.requestButtonQuestion == "ACTIVE"}}
{{elseif company.requestButtonsVisibility.requestButtonWhereToBuy == "ACTIVE"}}
{{/if}}
{{#if product.newProduct}} {{/if}} {{#if product.hasVideo}} {{/if}}
{{/each}} {{/pushedProductsPlacement5.length}}

Rotational speed: 27 rpm
Output: 30 kg/h
JUNIOR 3 for the Grinding of Large Sprues Low feed height and large top feed opening allows for easy use by means of sprue picker, conveyor belts, parts separators, or dumping the content of a box by hand. Compact design due to transmission ...

Output: 50, 80, 110 kg/h
Combining energy saving, a compact footprint and a unique damper cutting chamber for significant noise reduction, ensuring a quiet and efficient operation. Portable device, allowing greater versatility. Eco-design feature: G-Max Series ...

disc mill
Junior 2 Compact
Output: max 20.0 kg/h
... requirements for the purpose of recycling sprues and filled plastic parts. This can help reduce the heating of equipment and dust. It is used for quiet operations and processing of hardened plastics (hard, ...

Rotational speed: 6 rpm
Output: 100 kg/h - 150 kg/h
The ML 33 of Wittmann Battenfeld is used as beside-the-press granulator with small central installation. It is a granulator suitable in the product range between the MAS series and MC series. It is also possible to recycle medium sized ...

rotary drum mill
TM 300 XL
Rotational speed: 0 rpm - 80 rpm
The TM 300 XL Drum Mill is used for the preparation of granules and powders. The grinding process is performed either in dry or wet conditions. The drum mill can be operated either as a Ball or as a Rod ...

planetary ball mill
PM 100
... grinding times. The powerful and maintenance-free mill drive guarantees a constant controlled speed even during continuous operation in long-term trials at maximum loads. The Mills feature safety plastic ...

roller mill
RS 75b, 90 series
Rotational speed: 955 rpm - 1070 rpm
Output: 350 kg/h - 900 kg/h
The RS 75b/90 is a granulator manufactured by Illig. It has integrated interlinkage kits that guarantee excellent synchronization of mechanical and control-related interfaces. Key features include a maximum material draw-in width ...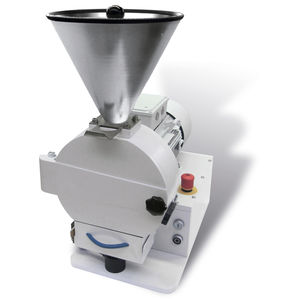 Brabender's Rotary Mill is used for grinding various materials in accordance to the analysis that is done properly, reliably and with a variable degree of fineness. The Rotary Mill possesses a speed of ...

Output: 200 kg/h - 800 kg/h
... operation: For this application mills, type PLM are used. Granulated feed material is fed into the mill by means of suitable dosing systems. An optimally designed aspiration system draws the material ...
See the other products
Pallmann Maschinenfabrik

knife mill
PS-F/PSRH/PSF/PS-I Series
Output: 40 kg/h - 7000 kg/h
Cutting/ Knife Mill / Ultra-Granulator Area of Application: Nowadays it is economically and environmentally reasonable to re-use waste from film rolls, film packages, edge trimmings, loose and tangled film and ...
See the other products
Pallmann Maschinenfabrik

knife mill
PS-K/PS-H Series
Output: 100 kg/h - 300 kg/h
Cutting / Knife Mills / UltraGranulator Application: For the size reduction of plastics, PALLMANN offers a variety of different knife mills. During the rotational moulding process hardly ...
See the other products
Pallmann Maschinenfabrik

Output: 200 kg/h - 2000 kg/h
... Application: With the PALLTRUDER®, mixtures of inorganic or organic materials can be processed into flowable granules (Wood-Plastic-Composite). Feed material can be in the form of powder, flake, film, fiber or foam. Compounds ...
See the other products
Pallmann Maschinenfabrik

... Application: The Turbo mill, type REF is used in recycling operations for the production of secondary raw material. The turbo mills are impact mills for medium fine to finest grinding ...
See the other products
Pallmann Maschinenfabrik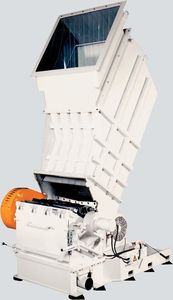 Output: 50 kg/h - 1500 kg/h
LM series granulators are equipped with rotor and stator knives in a crossed manner for scissor like exact cutting action. This machine helps in finer and identical cutting and keeps the heat formation stable. This type of cutting also ...
See the other products
NEUE HERBOLD Maschinen-u. Anlagenbau GmbH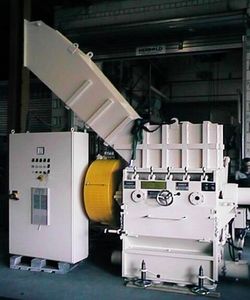 Output: 150 kg/h - 8000 kg/h
These granulators are designed by Neue-herbold. The bearings of the rotor shaft are mounted within solid steel housings which offers more reliable service and eliminate any chance for the housings to crack or break under heavy shock loads. ...
See the other products
NEUE HERBOLD Maschinen-u. Anlagenbau GmbH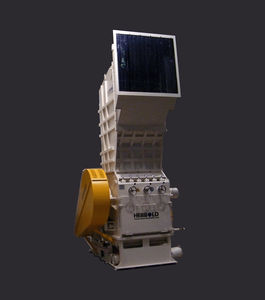 Output: 150 kg/h - 8000 kg/h
... and different-sized rotors. This enables the SM1000 to be utilized for numerous applications including volume depletion of plastic sheets, bulges, purgings, pipes, dense work-pieces and various profiles. These applications ...
See the other products
NEUE HERBOLD Maschinen-u. Anlagenbau GmbH

Output: 200 kg/h - 1200 kg/h
Design The ZM series pulverizer (pulveriser) is a extremely high out put unit can be supplied with automatic temperature control. The material to be pulverized is vibro feeder fed into fixed and high speed rotating pulverizer ...
See the other products
NEUE HERBOLD Maschinen-u. Anlagenbau GmbH

Output: 150 kg/h - 8000 kg/h
... -up lumps - the size reduction of massive purgings - the size reduction of massive profiles - size reduction of general plastic scrap with extremely wall thicknesses. - size reduction of voluminous hollow parts such ...
See the other products
NEUE HERBOLD Maschinen-u. Anlagenbau GmbH

disc mill
TriNex® LME / LMK
The horizontal disk mills type LME and LMK are improved, continuous working laboratory and production machines for wide variety of applications. The disk agitator shaft activates the grinding media with high intensity ...

Cutting Mills of the type SecoMy® are high speed cutting mills with high-frequency cutting strokes for the fine-grinding of cuttable materials. Application areas include materials that must be finely ...

fluidized bed jet mill
CGS 10 / 16
CONDUX CGS 10 and CGS 16 Fluidized Bed Jet Mills are used for jet milling of small batches on a laboratory scale. These jet mills assure ultra fine grinding of dry products of any hardness ...

The THM CM Cutting Mill is the right choice for cutting of pre-size-reduced parts into smaller granules. Size reduction takes place by a wear resistance rotor with rotating knives which are cutting against stator knives. The ...

... Cutting mill USM granulates precisely and quickly material already pre-shredded. The results are defined, pure-grade granule sizes of secondary raw materials, which can be used for the production of new products. The ...

Output: 500 kg/h - 30000 kg/h
The Universal Cross-flow shredder QZ does completely without the use of knives and opens up the input material particularly gently and quickly using impact forces. In comparison with conventional cutting systems the QZ offers significant ...

Rotational speed: 6000 rpm - 20000 rpm
The PULVERISETTE 14 is a variable speed rotor mill that is suitable for fast, effective comminution of soft to medium-hard, brittle and fibrous materials as well as temperature sensitive samples and for the utilization ...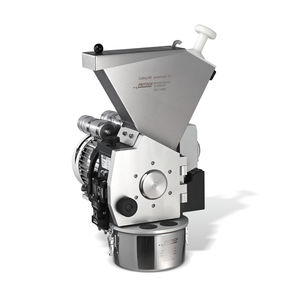 knife mill
PULVERISETTE 15
Rotational speed: 2800 rpm
... material is automatically transported away. This product is designed and manufactured to be utilized for the comminution of plastics, rubber, leather, fabric, fibres, wood, leaves, roots, animal fodder, grain, corn, ...

knife mill
PULVERISETTE 19 | Cutting Mills
Rotational speed: 300 rpm - 3400 rpm
The Pulverisette 19 is a cutting mill tool from Fritsch, commonly used in different areas of applications, such as comminution of plastics, rubber, films, leather, fabric, fibres, wood, leaves, roots, ...

Rotational speed: 3200 rpm
Output: 40 kg/h - 150 kg/h
GP series pulverizer owns advantages of special construction, easy to operate, high efficiency, low-consumption, low-noise, no dust. The machine can pulverize PP, PVC, LDPE, HDPE, PC, ABS, PA, EVA, rubber, wood dust, ...

Rotational speed: 500 rpm - 4500 rpm
... volume, annular chamber and nano mill Process units are available in the executions Centex™ as full volume disc mill, SuperFlow™ 4 as high-performance annular mill for recirculation ...

roller mill
G™ 1300 / 1800 / 2500
Output: 4 t/h
... / 2500 The semi-automatic Bühler five-roll refiner has been designed for monolines or product recipe types with similar plasticity and fineness properties. It thus allows a broad range of chocolate, filling, and coating ...

Rotational speed: 27 rpm
Output: 30 kg/h
The new JUNIOR 3 Compact screenless granulator from WITTMANN is dedicated to processing especially hard and brittle materials, including styrenes, acrylics, and glass-fiber reinforced resins. It is best used for the inline-recycling of ...
See the other products
Wittmann

horizontal mill
Junior 2 series
Output: 20 kg/h
... and is usually placed along the side of a molding machine. It also functions to recycle bigger sprues and hard or filled plastic parts.
See the other products
Wittmann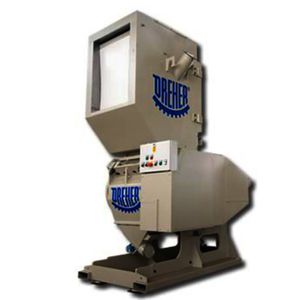 Output: 1000 kg/h - 3000 kg/h
The KX line has a helical cut and a faster throughput rate with a sturdy body. It is easy to clean and feed while the cutting chamber is designed for granulating needs. It has an inclined position on the casting setup with a lower feeding ...
See the other products
DREHER Heinrich GmbH & Co. KG

Output: 50 kg/h - 100 kg/h
The L line is a high capacity small granulator that has a robust and efficient design which features a slow-speed engine. It produces quality granule with a real helical cut. It is equipped with a sturdy motor, a high rotation torque ...
See the other products
DREHER Heinrich GmbH & Co. KG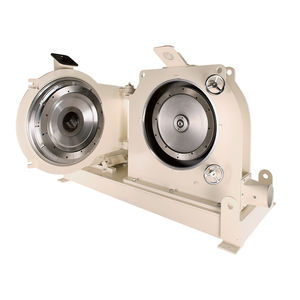 The AFS Fine Cutting Mill has a high throughput capacity that requires minimal energy consumption. It features one-piece grinding discs with a variety of toothing geometries optimized in regard to wear and maintenance. ...

Featuring the Mikro Pulverizer MP which is a hammer mill that has a lot typical applications such as production of carbon black. It features its powerful performance that is compatible for gradually ...

Output: 9 kg/h - 18 kg/h
The NCM Series granulators are compact and suitable for metered robot or conveyor feeds. They offer a screen-less cutter-housing and super low rotor speeds to lessen sprues and runners to granules that are consistent in size. They ...
See the other products
Conair

Rotational speed: 190 rpm
Output: 36 kg/h - 64 kg/h
The NC series of Meter Feed Granulators are ideal for small injection molding operations that are less costly. The sprues, runners and small parts are bolstered by a robot, providing high-quality regrind with less floor space consumed. ...
See the other products
Conair

Output: 1136 kg/h - 2272 kg/h
B Series Heavy Duty Granulator B Series Heavy Duty Series Granulators are designed for the most demanding applications. From low density fiber to heavy purgings, AEC's largest granulators are ready to tackle your high-capacity size reduction ...

... Series heavy duty central granulators are designed for high capacity central reclamation. They can granulate a wide range of plastic scrap, from low density fiber to thick, high molecular weight purgings and can be integrated ...

horizontal mill
BBH 1300 B-A
Concrete crusher for recycling / concrete pulverizer for floors, walls, panels, runways Top Plate for bolt on bracket. 2 versions : B = without rotation. R = continuous 360° hydraulic rotation. Reversed ...

horizontal mill
BB series
Mechanical Concrete Pulverizer The concrete pulverizer is working with the bucket cylinder of the excavator. No additional hydraulic line necessary. Mounting is done via adaptation plate on excavator ...

Rotational speed: 4 rpm - 12 rpm
360° rotation device makes the job convenient and more efficient. Outstanding design allows the primary and secondary demolition work at same time. High performance and easy pulverization in narrow space. Longer durability with Hardox ...

Hard face welding ensures long durability and low maintenance cost. Various and many teeth perform perfect pulverization and low transportation cost Outstanding design enables low noise demolition work Speed up valve can be installed ...

JDP series Hydraulic Pulverizers are the perfect tools for secondary demolition and recycling of concrete. Single large bore cylinder will maintain its strength through the complete stroke. The state of the arts speed ...