How to choose this product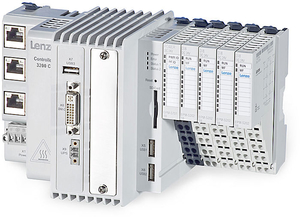 A PLC (programmable logic controller) is the heart of an automated industrial system. It executes control functions based on its internal program and data received from sensors.
Applications
These devices are common in industry for the control of machinery and assembly line automation, and for building security and heating functions. Compact or modular, these units are DIN rail- or back-panel rack-mounted.
Technologies
PLCs have analog or digital input and output ports and on-off input or dry contact output. An onboard processor and memory contain the operating program. The program is designed using software based on a functional Grafcet-pattern description. The programming language can be text or graphic. At times, Grafcet, itself, is used.

A PLC has communications ports for initial software loading and parameter modification in operational mode via a portable terminal. Other ports allow the connection of a fieldbus to link to external devices. Several controllers can be joined together using this system.
How to choose
Choice will depend on the necessary number of input and output connections, communications ports and expansion possibilities. Ease of programming and software maintenance are also important factors.