How to choose this product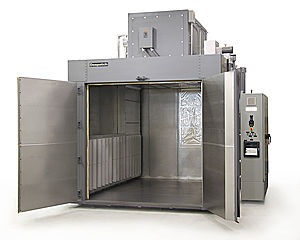 A curing oven polymerizes materials, primarily composites, through the application of heat. The various configurations include vertical, continuous operation (tunnel) and batch ovens.
Applications
These ovens are used in the composite materials industry for polymerization, including pre- and post-treatment.
Technologies
High heat is used to polymerize the treated materials. Temperatures can reach 500° C and are regulated by a ventilation system. Ovens are electric, gas or oil-fired and include safety systems in the event of the door opening.
How to choose
Choice will depend on required curing parameters, such as cycle time, temperature and air or vacuum curing. Power source, another important factor, may be affected by economic and technical considerations.
Advantages
- Pre- and post-treatment options
Disadvantages
- Expensive
- Tool contamination