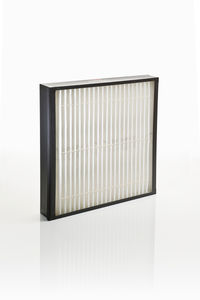 6 photos
panel filter / coalescing / air / polyurethane Macrogen GT-Duo

Operating pressure : 2000 Pa
Flow rate : 5000 m³/h

"Macrogen GT Duo has been specifically designed to meet the exact needs of gas turbine operators. With a low initial pressure drop and high dust holding capacity, combined with an inherent water repellency (coalescing and drainage), Macrogen GT...

1 photo
HEPA filter / fiberglass / polyurethane / low-pressure GVA (H12 – H13)

Operating pressure : 600 Pa
Flow rate : 1300 m³/h - 3200 m³/h

The Compact HEPA-Filter GVA is designed and tested to extract the smallest particles out of the air. Each GVA Compact HEPA-Filter contains ten Minipleat-Papercakes pleated in one piece and assembled in V-shape technology to achieve...

2 photos