How to choose this product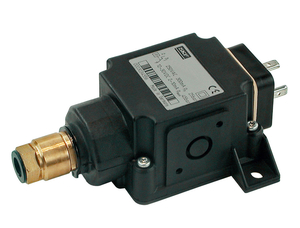 A pressure switch controls and adjusts a hydraulic or pneumatic system. It reacts to a pressure threshold or setpoint. Activating an on-off output, such as a dry contact, directly governs a mechanism which reestablishes the desired pressure.
Applications
These devices are found in process control, for compressor or pump operation, in chemistry, automobiles, agribusiness, the energy industry, hydraulics, construction, refrigeration units and in oil and natural gas installations.
Technologies
Relative or absolute pressure gas, vapor or liquid switches have a single input. Differential models have two inputs. Such switches can be mechanical or electronic.

Mechanical switches use a diaphragm, a piston or a Bourdon tube. The output contact may be normally open (NO) or normally closed (NC). A calibration screw is used to adjust the setpoint. Hysteresis parameters are set by the manufacturer or are adjustable.

Electronic switches also act as pressure transmitters. They use strain gauge, capacitive, inductive or piezoelectric measurement methods. Setpoints are programmable; readings are transmitted by two-wire, four-20 mA current loop or a three-wire 0-10 V arrangement. They are temperature-compensated and more precise.
How to choose
Choice will depend on the switch's working pressure and adjustment ranges, hysteresis, ability to withstand excess pressure and degree of protection.