How to choose this product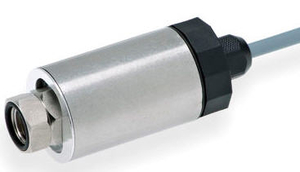 Pressure transmitters are pressure sensors whose electronics can generate measurement signals. The signal can be remotely transmitted via cables, buses or radio frequency.
Applications
These devices are used for process control in such sectors as the petrochemical, chemical and HVAC industries. They enable measurements to be transmitted to a control center.
Technologies
The transmitter's sensor unit uses a deformable component to generate an electrical signal proportional to the pressure. The sensors are capacitive, inductive or piezoelectric, with or without a strain gauge. They are often temperature-compensated.

The sensor can measure the relative pressure of a gas or a liquid (viscous or non-viscous). An absolute pressure sensor uses a reference vacuum chamber, while differential models have two inlets.

The transmitter is powered by two cables, via a four-20 mA current loop, which conveys the current measurement. Wiring is reduced to the strict minimum. Supply voltage is kept stable while the current is modulated by the measurement. If the signal is transmitted at 0-10 V, a third cable is used. Some transmitters can be connected to field buses such as Profibus or Modbus.
How to choose
Consider the unit's measurement range and maximum pressure capacity, its precision, its operational environment (temperatures, vibrations, etc.), the nature of the measured medium and the type of output signal.