How to choose this product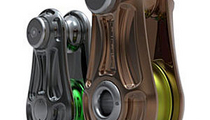 A pulley is a simple machine in the form of a wheel used to transmit movement via a rope, a belt, a cable or a chain riding in the groove around its circumference. Its rim shape may vary with function.
Applications
Pulleys are used in construction, work at height and for other tasks.
Technologies
These devices are used to move a weight in a direction other than that in which force is applied.
How to choose
Specific use must be determined in order to choose a pulley with a suitable rim.
Advantages
- Transmits movement