How to choose this product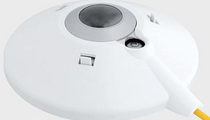 A pyrgeometer is an instrument which measures far infrared atmospheric radiation (4.5 µm-100 µm).
Applications
Pyrgeometers are designed to operate in the field, even under the harshest climatological conditions. They are used in meteorological, atmospheric and other studies.
Technologies
The pyregometer contains a thermopile which generates and output voltage when heated. This sensor sits beneath a silicon window which protects it from the environment and filters out all but the far infrared rays.