Pyrgeometers
How to choose this product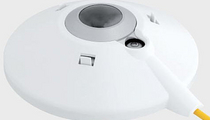 A pyrgeometer is an instrument which measures far infrared atmospheric radiation (4.5 µm-100 µm).
Applications
Pyrgeometers are designed to operate in the field, even under the harshest climatological conditions. They are used in meteorological, atmospheric and other studies.
Technologies
The pyregometer contains a thermopile which generates and output voltage when heated. This sensor sits beneath a silicon window which protects it from the environment and filters out all but the far infrared rays.
3 companies | 6 industrial products
4500 - 42000 nm, max. 15 W/m² | CGR 3

Kipp & Zonen
The CGR 3 is a pyrgeometer, designed for meteorological measurements of downward atmospheric long wave radiation. The CGR 3 provides a voltage that is proportional to the net radiation in the far infrared...
4500 - 42000 nm, max. 4 W/m² | CGR 4

Kipp & Zonen
CGR 4 pyrgeometer is an instrument for the highest quality scientific measurements. The specially designed meniscus dome provides a 180º field of view with negligible directional response error. A hard-carbon...
5.5 µm - 45 µm | LP PIRG01

Delta Ohm
The pyrgeometer LP PIRG 01 is used to measure the far infrared radiation (FIR). Its use is mainly in the meteorological field. Measures are referred to radiations with wavelength...