How to choose this product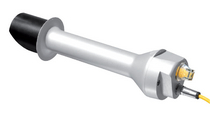 The pyrheliometer measures solar radiation incident within a band of just a few degrees. It is similar to the pyranometer, though the latter measures solar radiation falling on a surface and has an angle of view of 180°.
Applications
This device is a field instrument designed for use in even the harshest climatological conditions. It is found at weather stations and photovoltaic installations, and in atmospheric, climatological and other research.
Technologies
This instrument uses a narrow tube to limit the sensor's field of view. As in a pyranometer, this sensor is a thermopile which produces an output voltage when heated by the sun's rays. Its narrow angle of view requires the pyrheliometer to be linked to a solar tracker.