How to choose this product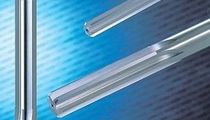 Reamers are metal cutting tools which look similar to drill bits. They are used to accurately bore holes that have been pre-drilled. Reamers should not be used as drill bits. They are designed to remove material through longitudinal cutting edges which progressively increase in diameter.
Applications
Reamers can be manually operated or used on drill presses, machining centers and lathes. Reamers are used in fine machining applications which demand high dimensional tolerances such as press-fit bearings.
Technologies
Reamers are found in different materials and construction types. They can be manufactured with either straight or helical longitudinal cutting edges. These devices can cut straight holes, tapers or Morse tapers. Reamers are typically made from high-speed steel or tool carbide.
How to choose
When selecting a reamer be sure to specify the type of material you are cutting, the speed and number of holes to be cut, as well as the dimensional tolerances and finish requirements of the design.
Advantages
- Close tolerances