The Online Industrial Exhibition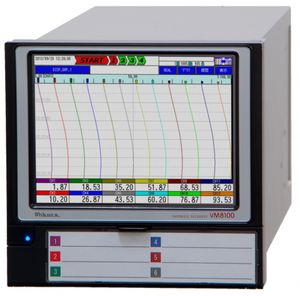 paperless recorder
VM8100A
The VM8100A is a paperless recorder that employs a 5.7-inch TFT liquid crystal display. It uses CompactFlash (referred to as "CF cards" hereafter) for its recording media, and is also equipped with network functions ...
See the other products
Ohkura Electric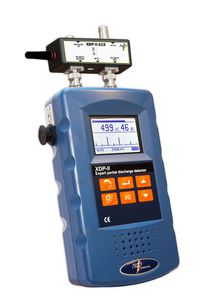 paperless recorder
XDP-II
The well established XDP-II can now be used for acoustic testing. When combined with the acoustic & HF converter XDP-II-019, the parabolic sensor or the contact probe, it allows detection of partial discharge, corona and arcing phenomenon ...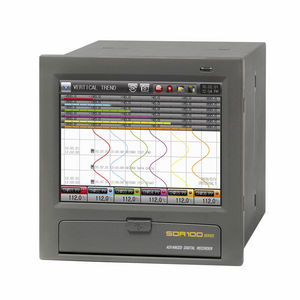 paperless recorder
SDR112
Various models (2/4/6/12 Channel) The touch interface like the picture clear quality Easy Operation (Full Touch MMI) Quick search history data (1GB/1SEC) Users screen configuration support Abundant storage space (internal: 64M, SD: The ...
See the other products
SAMWONTECH

Model 504 is a drying time recorder from Erichsen. It can automatically determine and register the drying behavior of paints or similar coatings. It can perform operations for simultaneous testing of 6 specimens, 3 speeds ...

video recorder
Cam4mobile VG
Ruggedised digital video recording and transmission system for mobile applications with 4 or 10 analogue or IP cameras Suitable for transport vehicles (e.g. armoured cars) Suitable for transport vehicles (e.g. armoured cars) Compatible ...

video recorder
TRUE-H LITE series
4 Channel, Embedded Linux OS, True H.264 Compression CIF / HD1 / D1 120fps Real-time Zoom (Digital x2~x8), Auto SEQ Mac OS Compatible, USB Flashdrive Backup 4 Sensor, 1 Relay out, 2 USB ports Internal HDD (SATA): 1, Watermark, USB mouse ...
See the other products
CCTVSTAR, Inc.

paperless recorder
EDS-400A
Compact and lightweight. 4-channel measurement with one unit Connected to strain gages, strain gage transducers and voltage-output sensors, the EDS-400A digitally records 4 channels of dynamic variables at high speed via built-in signal ...
See the other products
Kyowa Electronic Instruments Co.

The 9000TS is built on a rugged hardware platform suitable for the most severe of industrial environments found in the power and process industries. This unit will provide true time-stamping of event occurrence to a resolution of 1ms. ...

... memory Real time data transfer by LAN/USB Easy-to-view, easy-to-use paperless recorder Dust proof, drip proof, vibration proof for use at harsh environment Analog recorder chart paper image for ...

paperless recorder
RP 1 MICRO PLUS
RP 1 Micro Plus is an electronic instrument to fulfill the current standards of testing facilities of Rete Gas in low and medium pressure, then network connections, aerial parts; with external sensors, it is able to test gas pipes up ...

paperless recorder
ARC800 series
ARC800 Series Paperless Recorder features the most advanced technology. It can be applied across a broad scope of industrial applications. ARC800 is the product which with multi-channels, complete functions, easy operation, ...
See the other products
ALIA GROUP INC

video recorder
64 Mbps | SRM-872
64Mbps recording performance ONVIF camera recording / Event support H.264, MJPEG support Upto 3megapixel camera support 1 Hot-swappable HDD/SSD GPS data recording support Built-in heater at low temperature (-25°C) Support mobile ...
See the other products
Samsung Techwin

chart recorder
200 mm | 70-150A
The 70150A Strip Chart Recorder from Gow-Mac Instruments is fitted with the single chip hybrid technology. It is capable of processing charts with widths up to 200 mm at a rate of 0.1 to 20 mm/sec/min. It may be used ...

paperless recorder
1 - 6 channels | PLR-8000
The PLR-8000 Series are configurable "paperless" chart recorders for panel mounting, presenting in real time from 8 channels (expendable to 256 channels) of analog variables and 8 channels (expendable to 256 channels) ...

J- SINGLE, TWO OR THREE PEN RECORDER J- UNIVERSAL INPUT: THERMOCOUPLES, RTDs, mA, VDC J- HIGH ACCURACY AND STABILITY J- PANEL OR SURFACE MOUNTING J- MENU-DRIVEN SOFTWARE FOR CALIBRATION AND CONFIGURATION VIA FRONT PANEL ...
See the other products
Indumart

paperless recorder
ATEX, 0 - 1000 bar | SL963X
The SL963 is a high performance, high quality pressure data logger. A self contained pressure data logger that houses the pressure sensing module, battery and data logging electronics. The SL963 series data loggers are available with ...

video recorder
RVDTL Series
Basscam™ RVDTL Series Digital Video Recorders save simultaneous video input from multiple cameras in MPEG or other formats with time and date stamps. High speed recording rates up to 30 pictures per second (pps) can be ...

Harvard Apparatus introduces its NEW TR2 Chart Recorder. This thermal array Recorder is well suited for recording physiological signals. The rectilinear method of printing provides a precise trace of ...

paperless recorder
RCD-300
Environmental temperature: -10...50°C Climatic class: IEC 60654-1: B1 IP65 (front sided) Function description Applicationsariseinmanysectorsand industries. TheRCD-300 is used todisplayand recordingof criticalparametersusedin ...
See the other products
ACS-CONTROL-SYSTEM GmbH

chart recorder
1 - 2 channel | Fuji PHE
A low cost 100mm chart recorder, typically used on OEM applications. The PHE can record 1 or 2 channels continuously or 6 channels intermittently. This recorder can record up to 6 channels of thermocouples, ...
See the other products
CD Automation UK Ltd

paperless recorder
14 bit | 1134
Berkeley Nucleonics is introducing the fastest sampling transient recorder available. The Model 1134 Transient Recorder features a 14-Bit design with blazing sample rates. Each 1U Rack Mount unit provides ...
See the other products
BNC

event recorder
max. 24 V | EL-USB-5
Counter, Event and State USB Data Logger Accepts input voltage up to 24V Volt free contact option Rising and falling edge triggering Connection via screw terminals USB interface for setup and download This standalone data logger can ...

paperless recorder
0 - 2 000 ppm | TGE-0010
The TGE-0010 CO2 logger has a reading range of 0 to 2,000ppm which is ideal for many building monitoring applications. The logger is mains powered and suitable for monitoring in offices and workplaces, and also commonly used in schools ...
See the other products
Gemini Data Loggers (UK)

Records sound level, vibration level or DC voltage. External control is possible for pen, paper feed and marker functions. Operates in sync with level processing equipment.

paperless recorder
6000 series
The 6000 series fits a wide spectrum of applications by offering fully featured software options and flexible I/O, which can be added to at any time. A unique trial mode feature removes the constraints of the purchased options, allowing ...