How to choose this product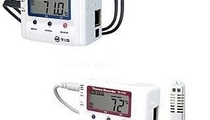 A recorder acquires and stores measurement, count or product flow data. It is capable of repetitive measurement data capture for process monitoring or analysis over time.
Applications
These devices are used in industrial and laboratory settings to monitor temperature, pressure, humidity and pH parameters. In medicine, they measure and monitor vital signs. Others centralize product stock or flow management.
Technologies
Portable recorders are capable of measuring over time, storing data in memory. The information is retrievable via an RS232/422, USB, Bluetooth® or LAN port. Such independent instruments use a remote or an integrated sensor. Numerous models have special connectors for a thermocouple or resistance temperature detector (RTD) and voltage or current inputs.

Some record data on a removable paper support, either circular or a moving strip. In contrast, a data acquisition station is entirely digital. Analog signals are sampled and the data stored in memory. Stock and flow management recorders centralize data collected by portable bar code or RFID tag readers, or via fieldbus or wireless link. They constitute a user interface which facilitates accounting and statistical analysis.