The Online Industrial Exhibition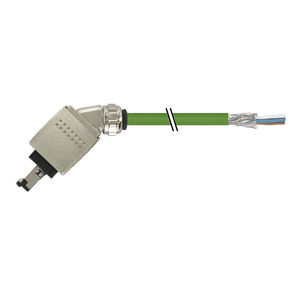 See the other products
MURRELEKTRONIK

Current: 1.5 A
Voltage: 60 V
Sockets for TO ... casesPF 53 ... PF 53 ... Sockets for TO 5 contact material CuZn-alloy contact spring gold-plated surface contact / contact sleeve Ni+4...6µm Sn Ni+≥0.2µm Au no. of contacts 3 inner contact spring material CuBe-alloy inner ...
See the other products
Fischer Elektronik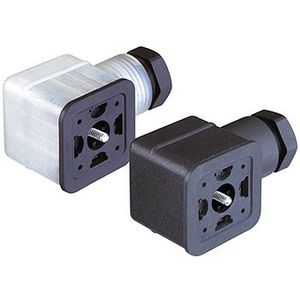 electrical power supply connector
GDM series
Current: 16 A
Voltage: 250 V
Rectangular connectors of the GDM-series for hydraulic, pneumatic and electromagnetic actuators are available in all forms (type A/B/C).
See the other products
HIRSCHMANN

data connector
70Ax series
Current: 3 A
Voltage: 30, 60 V
... battery pack is required. Because they can be used as either compression or sliding Modular Contacts, they can function as connectors for many other non-battery related applications.

Current: 5 A
Voltage: 125 V
Characteristics Standard type filtered with 1000 pF High attenuation of more than 40 dB @ 180 MHz Low size: 6.3 mm Rated voltage: 125 VDC Rated current @ 20 ºC: 5 A Withstand voltage: 250 VRMS Insulation resistance: min. 1000 MΩ Operating ...
See the other products
Würth Elektronik eiSos

FPC/FFC connector
XF3M series
Current: 0.5 A
Voltage: 50 V
Pitch: 0.5, 1 mm
The XF3M model engineered by Omron, is a 0.5 mm or 1.0 mm rotary backlock connector that features adual contact design. This design enables the reduction of the number of parts in the device's Bill of Material. In addition, ...
See the other products
OMRON Electrical Components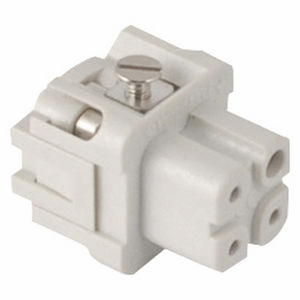 Current: 10 A - 35 A
Voltage: 50 V - 830 V
The GW Connect range includes over 2000 articles, subdivided into multi-polar connectors, metal accessories and boxes, providing the industrial environments with guaranteed complete solution for all disconnectable power ...

data connector
Pos-E-Kon® series
... DIN-standard rectangular pin and sleeve connectors are modular for easy assembly at the customer site. Features Simplify - Pos-E-Kon connectors create easy access in panels, machinery ...

Verotec maintains a range of connectors that conform to the DIN 41612 standard to compliment our Eurocard and Power Supply ranges.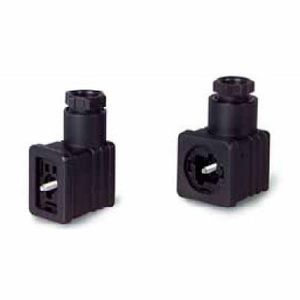 electrical power supply connector
600001000/11000
Current: 10 A
Voltage: 250 V - 300 V
DIN CONNECTORS FOR SOLENOID VALVES Coil connectors provide the safest flexible system for connecting M&M International solenoid valves and give a protection class of IP65. They are designed and made ...

card-edge connector
1384X Series
Current: 10 A
Voltage: 250 V
Series 1384X Edge Connectors – 1 Sided Boards/Vertical Mount

data connector
CCM01 MK2 V2 series
Features and Benefits EMV PCI ready Card detection sealed switch Typical Applications Transaction Identification POS Specifications Electrical Life: Up to 500,000 cycles Contact ...
See the other products
C&K Components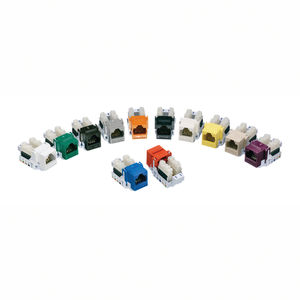 data connector
RJ45FC3-BLU
... maximum performance in Category 3 applications. Available in an 8 position, 8 conductor 568A/B connector or USOC connector and a 6 position, 6 conductor USOC connector, they ensure the ...

Y CAN cable All pins connected Length 22 cm Sub D9 socket to sub D9 socket/plug Shield

Current: 2 A - 4 A
Voltage: 32 V
Pitch: 2.5, 5 mm
RAST 2.5 connector for direct mating, insulation displacement technology (IDT), with locking on printed circuit board by means of enhanced locking toes, alternatively with or without keying rib and closed sides, for individual ...
See the other products
Lumberg Connect

Current: 4 A
Voltage: 24, 230 V
Flexible, silicone- and halogen-free control line with high mechanical strength. The cable is chemicals, hydrolysis-, and microbes- resistant. The drag-chain application is possible at a bending radius of minimum 10 x d. Due to its weld-field ...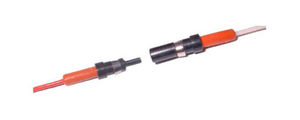 D-sub connector
HI/Mate-D
Voltage: 13,500 V
A High Voltage Capability for Subminiature-D Connectors HI/Mate-D high voltage lead assemblies are rated @ 13.5 KVDC and can be fitted into a Sub-D No. 8 gauge insert cavity. The assemblies are ideal for airborne applications ...
See the other products
Teledyne Reynolds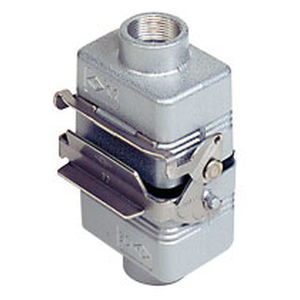 data connector
CNLZ 06 VG
Current: 16 A
Voltage: 500 V
Product description Series CNZ complete connectors 16A max - 500V (screw) Product type hoods with single lever, CNE series inserts,with screw connection terminals hood side entry Family complete connectors Size ...
See the other products
ILME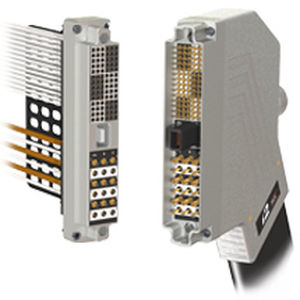 electrical power supply connector
i2 MX
Interchangeable modular inserts EMI-shielding available Maximum cable bundle capacity with innovative cable exit i2 MX enables mixing of signal, power, VTAC HSD and coax Easy access for trouble-shooting and maintenance ...
See the other products
VPC - Virginia Panel Corporation

sockets for Pushbutton Code Switches with PCB in various numbers of poles after 100 plugging actions all technical values are within limits
See the other products
Hartmann Codier

data connector
NFD2 Series
Current: 16 A
Phono socket in nickel D-shape housing, black isolation washers, solder version Features & Benefits Precisely machined to our demanding quality standards Gold plated contacts
See the other products
Neutrik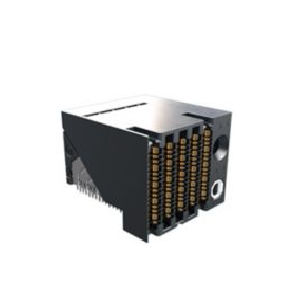 backplane connector
ExaMAX®
Pitch: 3, 2 mm
Data rate: 25 GB/s - 56 GB/s
... PATH TO HIGHER BANDWIDTH APPLICATIONS ExaMAX® 92Ω backplane connector system meets industry specifications requiring higher bandwidth applications from 25Gb/s to 56Gb/s. The optimized connector design ...
See the other products
FCI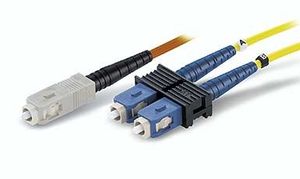 Universal standard connector conforming with IEC 61754-4. Specified / recommended for LAN cabling according to ISO/IEC 11801 and EN 50173, the SC is the most common fiber optic standard connector. * ...
See the other products
Rosenberger OSI

electrical power supply connector
M-A series
Current: 10, 4, 2 A
Voltage: 250, 230, 24 V
The M-A is series of rectangular connector manufactured by Binder-USA, LP. The binder solenoid connectors is best suitable for low profile or standard size housings. It is build with ...
See the other products
Binder-USA, LP

HellermannTyton Category 6 copper connectivity products exceed TIA requirements for structured cabling systems. In addition to unshielded patch cords, HellermannTyton offers shielded standard and GSA compliant Cat 6 patch cords. Our Cat ...
See the other products
HellermannTyton USA