How to choose this product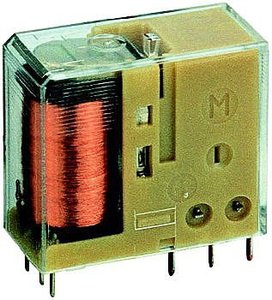 A relay is a control mechanism that activates or deactivates one or several parts of an electrical circuit. The two main categories are electromechanical and solid state relays.
Applications
These devices are used primarily to remotely switch a device or a circuit on or off. Remote electromechanical or electronic switching protects the user from possible danger associated with direct switch or contactor use, and makes possible automated switching. Some relays are used for security and protection. At activation thresholds, relays are used to control current, voltage, or a signal level. Time-delay relays exist as well.
Technologies
Relays exist in mechanical form, with electromagnets moving contacts when energized. Normally open or normally closed relays change position when activated by an electrical signal. Compact, solid-state relays consist of semiconductors and have no moving parts.
How to choose
Choice of a relay depends on intended use. For example, a time-delay relay is activated with a predetermined lapse after receiving a signal. Current strength must also be considered. Solid state relays cannot handle currents of the same strength as electromechanical models. On the other hand, solid state relays offer faster switching speeds.