The Online Industrial Exhibition

digital I O module
RSTi-EP I/O
The RSTi-EP remote I/O system is ideal for Industrial Internet applications. It features an extended operating temperature range, enhanced diagnostics, plug-and-play connectivity and high channel density. Intuitive Integration The RSTI-EP ...

digital I/O module
750-8xx series
Streamlined planning and implementation of building functions: WAGO's new BACnet Controller supports MS/TP interface via standard twisted-pair cable and boasts top features, as well as simple I/O field connection. The market trend of ...

digital I O module
MELSEC ST series
The MELSEC ST series is an universal solution for distributed automation systems. Its modular architecture makes MELSEC ST exceptionally flexible, so that it can be configured precisely for any application.
See the other products
MITSUBISHI ELECTRIC EUROPE

digital I/O module
FDCIO221
For the connection of 1 circuit of potential-free, make-or-break contact for the indication of technical states (e.g. door or ventilation control) or for alarm actuation (e.g. sprinkler alarm). For the decentralized control of fire doors, ...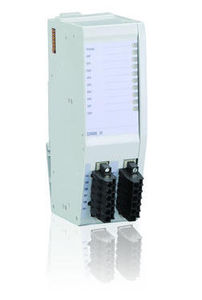 digital I O module
RIO600
The particular RIO600 distant I/O device is built to broaden digital enter not to mention output amount of ABB's Relion® IEDs and also to supply digital inputs not to mention components for the COM600 channel automatic system utilizing ...

The X20 System goes well beyond being a mere remote I/O system, to an entire control solution, thanks to its advanced ergonomic design as well as careful detailing. Specific components as necessary can be combined as per user requirements ...
See the other products
B&R Industrie-Elektronik

digital I/O module
RIO-2014PG
C Programmable Remote I/O Module Cost-Effective programmable I/O module Support lwIP and BSD socket library and tiny web server Windows configuration utility included 1 x 10/100Mbps Ethernet interface 1 x Isolation RS-485 ...
See the other products
Artila Electronics

analog I O module
SmartMod
Our newest OCS I/O option, SmartMod I/O, is now available to expand your OCS system. It's a great choice for expanding next generation OCS when you need one, two or a few more digital or analog I/O. Because SmartMod I/O are so compact, ...
See the other products
Horner APG

Description The Remote I/O Module ANTARES 8DI-N is operated and supplied with power by means of the Rail Control unit (RCU) ANTARES. This module is suitable for connecting 8 intrinsically safe binary signals in hazardous areas. NAMUR ...
See the other products
BARTEC

digital I/O module
E3 series
Overview: Red Lion's rugged E3 I/O™ Ethernet-enabled I/O module platform provides powerful networking and reliable remote monitoring and control capabilities for harsh industrial environments. With all-metal housing, wide environmental ...
See the other products
Red Lion Controls

digital I/O module
MASI68 series
Decentralized installations with MASI68 are very easy. They can be installed in a short time, they are very flexible, offer efficient technology - and they are also very rugged. MASI68 can be mounted near the peripherals. Easy to Handle ...

digital I O module
ioLogik W5340-HSPA
Front-end intelligence with patented Click&Go control logic, up to 24 rulesUsing Active OPC Server software, SCADA systems can directly communicate with cellular devices hidden behind private IP addressesActive communication with Active ...
See the other products
Moxa Europe

digital I O module
SEL-2506
Rack-Mount Remote I/O Module The SEL-2506 Rack-Mount Remote I/O Module has eight digital inputs, eight digital outputs, and a fiber-optic communications port. Connect an SEL-2506 to a fiber-optic port or transceiver on a protective relay ...
See the other products
Schweitzer Engineering Laboratories

analog I O module
JX3-BN-CAN
The CAN bus node JX3-BN-CAN is for setting up remote I/O stations consisting of JX3 expansion modules and for connecting these modules to JetControl 24x and JetControl -647 controllers. It also serves as power supply module for up to ...
See the other products
Jetter

Smart I/O for efficient and simple system Using Smart I/O, users can reduce the wiring and control I/O in real time, which means it helps to realize simple and effective system. Also it provides various I/O(DC/TR/Realy) and support various ...

digital input module
RUM-9053D
Remote I/O Product Model: RUM-9053D Product Description: 16 Digital Input Channels Module/PhotoMOS Output Module/Modbus
See the other products
Ethernet Direct

analog I O module
MG40 series
MG40 series, new measurement system integrates the primary functions of a counter into the gauge itself to a high degree. The MG40 series does not have to count analog outputs or AB phase outputs of the gauge and acquires positional information ...

analog I O module
M1260E CPU P3
Integrated 10/100 Ethernet UTP Port Program in all five IEC61131 languages Supports 1ms time stamping using Sequence of Events modules Automatic IO module identification and Scanning Powerful 32 bit processor Maxiflex P3e CPU with ...
See the other products
Omniflex

analog I O module
FBM series
All FBM mod­els are equipped with a con­troller and, hence, an in­tel­li­gence of their own. In com­par­i­son to oth­er field­bus-based con­trollers, this in­creas­es the re­ac­tion rate by the fac­tor 4 to 20 and of­fers re­lief to the CAN­Bus.

Remote system for digital data exchange I/O modules via CanBus allow building of a remotely controlled system for the exchange of digital data using a screened single-pair cable. This decreases the amount of cabling needed and the operating ...
See the other products
Arteco Motion Tech

digital I O module
F3 series
F3 I/O modules Our F3 I/O modules and F3 I/O remote systems offer a cost-effective interface for your field signals, in the automation process control and machine control system. The range of available gateway modules permits the connection ...

digital I O module
SRB series
SCE remote I/O module (CAN BUS and Ethernet) make the user able to have a totally action flexibility choosing I/O type and number depending on the application. Is possible to have 8I/8O modules controlled by a CPU unit module able to ...

digital I O module
PMCFW2
The PMCFW2 is a three port IEEE1394 Firewire PMC module using Texas TSB12LV26 IEEE1394 OHCI compliant Host controller and TSB41AB3, three port transceiver/arbiter compatible with IEEE1394a-2000, cable supplied from PCI 12V power via ...

digital I O module
EC-DIO32
EC-DIO32 comes with a design that makes it compatible with machine networks, especially in situations where the user needs to rely on the definition of a certain number of outputs and inputs. The user also has to be able to meet changing ...

digital I O module
MSX-E1516
MSX-E1516 is am Ethernet digital I/O system that is used to gather and process I/0 signals directly close to the test item in abusive industrial surroundings. It contains an IP 65 protection degree that delivers an extended temperature ...