How to choose this product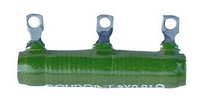 A resistor hinders electrical current flow, its resistance expressed in ohms. It can be a separate electronic component or a surface-mounted device (SMD). It also is used as an industrial load device in high-power systems.
Applications
Resistors are common circuit board components for limiting current flow to semiconductors. They are frequently found in signal amplification and filtration. Industrial uses include load banking for generator or battery testing, harmonic filtration, grounding or for motor braking and starting. They often are used as a heat source.
Technologies
Low-power versions generally are metal-film resistors on a ceramic core. Wire-wound resistors on a ceramic core are used in high-power applications. Those used in electronics have standard values indicated by numbers or color-coding. Very high power resistors may use copper ions in an aqueous solution. Power retained by the resistor is dissipated as heat, following Joule's law.
How to choose
Choice will depend on resistance value, precision, load capacity and packaging, for surface or through-hole mounting.