How to choose this product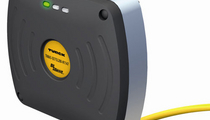 An RFID (radio frequency identification) reader exchanges data remotely with RFID tags or transponder badges for object tracking or access control. A passive tag draws its energy from the radio waves emitted by the reader, whereas an active tag contains its own power source. The tag may be single-use or rewritable.
Applications
Tags are used to identify and track products in a flow system, for the automation of industrial processes or for payment via contactless devices. Badges limit building entry or vehicle access and operation.
Technologies
Frequency varies with required performance and applicable norms. High frequencies offer fast data transfer and complex read-write functions. Low frequencies have greater range and penetrating power. Collision detection and avoidance systems manage conflicts among multiple readers and tags in the same area. Techniques include error detection and spatial and temporal frequency separation.
How to choose
Choice will depend on the intensity of traffic in the use area and the desired data-exchange complexity.
Advantages
- Rapid identification
- Object tracking
- Security
Disadvantages
- Interference in multi-signal zones