How to choose this product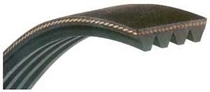 The ribbed belt is a power transmission belt with longitudinal grooves. These align with corresponding ribs and grooves on the pulley, greatly increasing the contact surface.
Applications
Ribbed belts have a large number of industrial applications: compressors, agricultural machinery, food mixers, etc. Other uses include in lawn mowers, stationary bikes and as auto accessory belts.
How to choose
Choice criteria are the same as for belts in general:
- Torque to be transmitted
- Rotational speed of drive and driven shafts
- Shaft spread
- Available space
- Operational conditions (vibrations, surge, shocks, temperature, humidity, dirt, etc.)
Advantages
- Great power range (0-600 kW)
- Can furnish large transmission ratios
- Durable, reliable and silent
- Tension stability