How to choose this product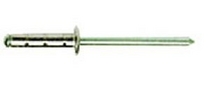 A rivet is a permanent fastener consisting of a cylindrical shaft with a head at one end. Most are metal, though plastic rivets do exist. The headless extremity is flattened, and therefore widened, against one face of the assembly, often sheet metal.
Applications
Rivets are commonly used to assemble metal sheets, but also can be found in various applications in which two or more elements are joined.
Technologies
Common rivet types include:
- double rivets
- blind rivets (also called POP® rivets)
- speed rivets
- expansion rivets
- structural rivets